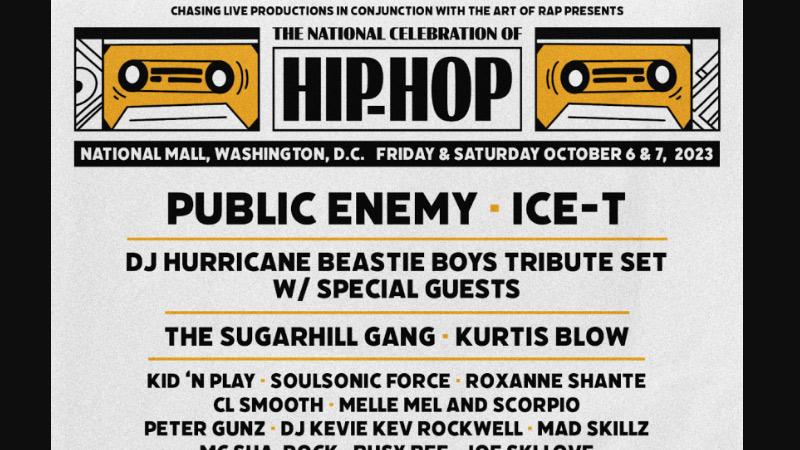 Public Enemy, Ice-T to Headline 2 FREE Days of Concerts in D.C. #HIPHOP50
Washington, D.C. will host a free two-day event this fall featuring rap pioneers such as Public Enemy, Roxanne Shante, The Sugarhill Gang and Ice-T.
Announced Wednesday, the first and only "National Celebration of Hip-Hop" will take place Oct. 6 and Oct. 7 at West Potomac Park on the National Mall.
"Hip-hop is beyond, not just a musical genre," Public Enemy frontman Chuck D said in a statement. "It's a cultural movement that has dominated art, fashion, politics, poetry, academia, film and every corner of the world for the past 50 years. This National Celebration brings it all together in one place for the people, by the people."
Presented by Chasing Live in collaboration with The Art of Rap, the festival is a nod to the old-school artists who helped shape today's dominating music genre, and will also include performances by Mc Sha Rock, Kurtis Blow, Kid 'n Play, Busy B, Peter Gunz, and Grandmaster Flash & The Furious Five's Melle Mel and Scorpio, among others.
DJ Hurricane will pay a special "tribute set" in honor of the Beastie Boys.
The National Celebration of Hip-Hop promises "the opportunity to enjoy various activities including guest speakers, comedians, public figures as well as interactive events and exhibits throughout the day," according to the press release.
"We are coming to the National Mall itself to bring you authentic hip-hop for the 50th celebration!" Ice-T said in Wednesday's announcement.