With the love and hustle of the Crescent City running through his veins, August Alsina is eager to follow in the footsteps of the NOLA music legends that paved his way. His recently inked deal with Def Jam Recordings looks to be a great step in the right direction, but music wasn't always in his future. We caught up with the R&B cat to see what's on deck for him.
"

When God gave me my gifts, rapping wasn't included, but I will say that you can never put limitations on creativity. Who knows! But right now I'm focused on what put me here, and that's a full album of singing that real shit.

"
Born and bred from the streets of New Orleans, Louisiana, enter into the game, 20-year-old August Alsina…
August learned at an early age that drugs and money could make you, or break you. With both his father and stepfather battling crack addiction, August's mother moved their family to Houston, Texas in search of a fresh start. But Houston provided no happy ending. For years a young August endured a home life plagued by drugs and violence. At just 14, he got word from New Orleans that is father, August Sr., lost his battle with drugs and alcohol.
In an attempt to escape his reality, August took to Youtube, where he posted dozens of homemade performance videos. His clips covering Musiq Soulchild, Lyfe Jennings and others went viral, generating millions of views in just over a month. It seemed that he was finally taking his first steps toward a bright future in music, but just a year later, reality hit home when his best friend was shot and killed in the streets of Houston. As quickly as August appeared, he vanished form Youtube, back to the real world. With tensions mounting at home, 16-year-old August was kicked out. Alone, he returned to New Orleans and took to the streets, selling drugs as a means of survival.
With his older brother also in the streets hustling, it wouldn't be long before August learned that the addiction to money could be as deadly as the addiction to drugs. Just days before August's 18th birthday, his older brother was gunned down in New Orleans East, another unsolved murder in one of the nations most dangerous cities. "I never expected them [the police] to find his killer", August explains. "People die everyday in the streets of New Orleans. Unfortunately, death has become a way of life," but not for August. His brother's death became his motivation to not become a statistic, but to pursue his musical aspirations on an entirely new level.
Under the guidance of Noontime Unlimited (management and production company), August relocated to Atlanta in 2011 to begin carving his own musical path with his life experiences at the center of his artistry. He recently teamed up with Hoodrich/MMG's own DJ Scream for the release of his debut mixtape, 'The Product', which spawned the internet and radio buzzing anti-love single, "Sucka" which features fellow New Orleans crooner Lloyd.
Yet to reach 21 years old, with already a lifetime of experiences behind him, August is living proof that your past doesn't have to dictate your future, and that life's hardships can be the motivation required for success. With Grammy Award winning singer/songwriter The Dream prepping August's debut project for release through his Radio Killa/Def Jam imprint, the path to success has been laid. Look for August to make 2013 his official coming out party.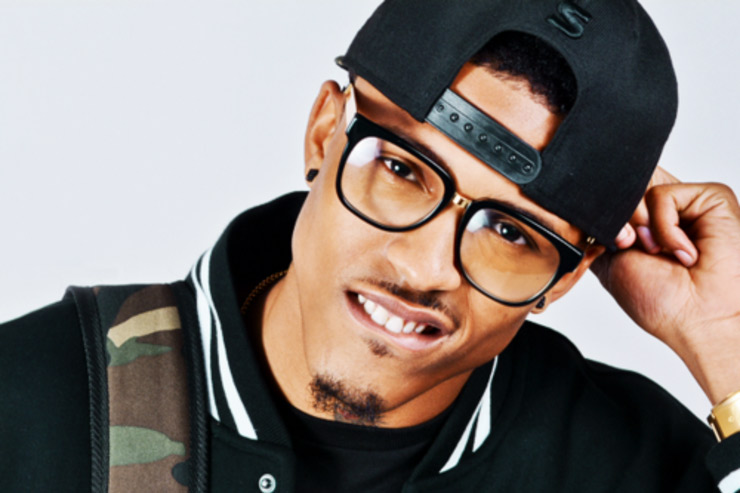 *INTERVIEW*
You started out pretty early in music.. is this right?
I've been at it for about 7 years strong now.
What was life like growing up in New Orleans and how has it influenced your music?
New Orleans is me. The reason I am who I am til this day is thanks to New Orleans. Good or Bad.. It's all instilled in me. WE, New Orleans are the murder capa, so when you make it out it means you're a soulja! You're a hustler, you're a survivor! It's a "live to tell" kind of situation. So now that I'm in a place where I can "tell", my background has every bit to do with my music.
Who inspired you to do music?
Of course there's the love for it, but then there's the life we live, our community, our families. Wanting something different, wanting something more so I guess if "struggle" could be considered a "who", my answer would be exactly that.
At what point did you know that music would be your passion and tackle it as a career?
August 31 2010! It's tatted on me! That's when I took it all in & said I gotta do this shit! Not only because I love it as a career, but there's no fucking reason I should have to fear MY people. US, as what they call "thugs". In fear because they Killed my oldest brother on this day, knowing that if they'd do it to him, they'll damn sure get me! One person, being able to reach an um teenth amount of people is why I do it, I wanted to tell a story.. That day started it all off.
What artists would you like to emulate?
Usually when people say emulate they mean "imitate" or "match" & honestly I don't care to do that. I'm just a yung nigga, being me.. Staying true to myself.. Never being a sellout & spreading my view on this crazy ass world we live in. I don't want to be like anybody but myself. That's what got me where I am today. Gotta show love to PAC tho. From what I see, homey had great character deep down.
Is it true you wanted to rap at one point? Will you ever pursue that lane?
No. I really can't answer that. I can tell you that when God gave me my gifts, rapping wasn't included, but I will say that you can never put limitations on creativity. Who knows! But right now I'm focused on what put me here, and that's a full album of singing that real shit.
How did you get involved with Noontime Unlimited?
I did my part with the hustle of coming up. I then prayed & asked God to place me with some real niggas that's connected to him, and there it was… Noonie & D-Day!
You going to be teaming up with Lloyd again on any projects or songs (That "SUCKA" joint was dope) 
Lloyd's my nig.. He's my brother! We stay working, that's a constant thing. We recently dropped our RMX to Kendrick Lamar's "Swimming Pools" record.. S:O 2 Kendrick by the way. Homey's dope!
You have The Dream working with you on your debut album — How did you link up with him? What involvement will he have with this project?
Dream just a real nig' who recognizes real. We met, chopped it up, played some shit and I already had some interest from a few labels, one being my label home Def Jam which he's apart of. He liked what he heard & immediately wanted to be a part of it. Homey writes and makes those HITS, how can you say no to that?
Do you have a name for this album yet? How far along are you on this project?
I do. But I want the world to get to know me a little better before I announce that. I'm pretty much done & ready to take off. But you never stop working So you never really done..
Who's all gonna get down on this?
It's a little early on to answer that, but I have a few features in mind.
What advice would you give someone getting into music that only has the passion for music and just their vocals, but nothing else.
They'd be missing what it's all about. They'd never understand why I as an individual do this, and that's a hurtful thing. I'd just encourage them to never quit their day job.
What RnB artists do you like/listen to?
I just listen to music, period! I go through spells. I listen to mufukkas with SOUL. John Mayer has ALL the soul.
Anybody you'd like to collab with? (rnb or hiphop)
Big Sean, Eminem, Kendrick Lamar.. The list goes on.
How about hip hop? Who do you listen to? Who you feelin?
PAC, Biggie, Ye', Lupe .. All Greats!
Where do you see yourself in say.. another 5 years?
I'm really a right now type guy. I don't think we'd ever really know where we'll be years from now because who would've known I'd be right here, right now? A bad ass yungin, tatted up, the underdog.. Hustlin! I can say that I know I'll be in a good place, because just as God holds my right now.. He holds my forever. I just know that whether its 5 years or 10 years down the line, I want to be somewhere changing the world.
Any last words?
Go hard. Never stop! & Stay blessed my nigga. Keep up with a yungin' here: twitter.com/AugustAlsina