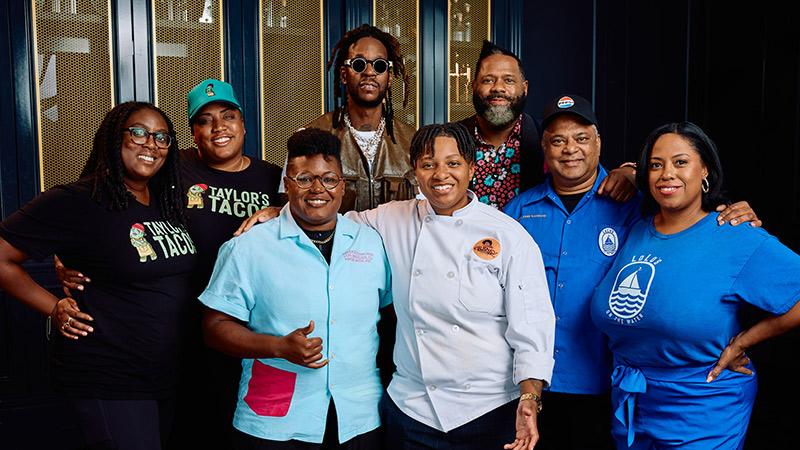 2 Chainz Teams Up With Pepsi Dig In For Restaurant Residency In Las Vegas.
2 Chainz is partnering with Pepsi Dig In for a restaurant residency program in Las Vegas that will highlight Black chefs.
Each of the six participating Restaurant Royals will have a limited-edition menu item available exclusively for a three or four-week period at Libertine Social at Mandalay Bay and Public House at Luxor. The residency will also feature two new cocktails: one inspired by 2 Chainz featuring STARRY® and another with Pepsi® Zero Sugar.
"No matter your background, building and running a restaurant is a constant grind but that's what makes the rewards, like this residency, worth it. Opportunities for this kind of exposure in Vegas can be life changing for businesses. It's great to see brands like Pepsi Dig In and MGM put the power of their platforms behind these talented Black entrepreneurs, and it's a privilege to be among them," said 2 Chainz.
These are the dishes from Black-owned eateries across the country:
Esco Restaurant & Tapas, Co-Founders 2 Chainz and Mychel "Snoop" Dillard (Atlanta, GA) – Sept. 30 to Oct. 27, 2023
With several locations across the country, this restaurant-by-day and lounge-by-night is known for its seafood and Southern dishes. Vegas foodies will get a taste of one of 2 Chainz's favorites, the Blackened Salmon Alfredo Pasta, featuring Cajun-seasoned fish over classic alfredo. Fans can also enjoy 2 Chainz's own cocktail creation throughout the residency.
Cranky Granny's Sweet Rolls, Owner Sianni Dean (Pflugerville, TX) – Sept. 30 to Oct. 27, 2023
Voted the number one Black-owned restaurant by fans via Pepsi Dig In's Restaurant Royalty contest initiative, Cranky Granny's Sweet Rolls is serving its Churro Cinnamon Roll with a classic cream cheese glaze, chocolate and caramel drizzle. The dessert is finished with vanilla ice cream, whipped cream, and a strawberry.
Taylor's Tacos, Co-Owners Taylor and Maya Mason (Chicago, IL) – Oct. 28 to Nov. 24, 2023
Specializing in authentic street style tacos with soul, Taylor's Tacos will be serving their Extra-Juicy Chicken Tacos with braised chicken thigh, secret salsa, cilantro, cheese, and lime in crisped corn tortillas.
Blk Swan, Executive Chef and Co-Owner Saon Brice (Baltimore, MD) – Nov. 25 to Dec. 15, 2023
Known for their uniquely crafted New American menu, Blk Swan will serve its top-selling seafood risotto with shrimp, scallops, Maryland jumbo lump crab, white wine and sambal, for a heated twist.
LoLo's on The Water, Executive Chef Raymond Mohan and Co-Owner Leticia Skai Young (New York, NY) – Dec. 16, 2023 to Jan. 12, 2024
Inspired by island flavors, LoLo's on The Water created a new dish exclusively for the residency. The Island BBQ Beef Shank Platter features BBQ beef shank with an achiote glaze, served with Johnny Cakes and honey-rum glazed plantains.
Bridgetown Roti, Chef and Owner Rashida Holmes (Los Angeles, CA) – Jan. 13 to Feb. 6, 2024
The James Beard Award finalist will bring one of the most popular vegan dishes from her Los Angeles Caribbean pop-up: Curry Channa Doubles – savory Trinidadian-bara bread with curry chickpeas, cucumber chutney, lime and tamarind sauce.
"Las Vegas provides a valuable culinary stage and unparalleled business opportunity for restaurateurs. In partnership with MGM Resorts International, the Pepsi Dig In Restaurant Royalty Residency Program is putting Black-owned restaurants and chefs in front of foodies from around the world," said Scott Finlow, CMO of PepsiCo Global Foodservice.
About Pepsi Dig In
Pepsi Dig In is a platform designed to drive access, business growth, and awareness to Black-owned restaurants. Pepsi Dig In helps diners discover, dine at, or order from Black-owned restaurants while providing resources, mentorship, and training to Black restaurateurs. Utilizing the scale and reach of PepsiCo and its partners, Pepsi Dig In aims to create opportunities for Black-owned restaurants to thrive.
Launched in 2020 as part of PepsiCo's Racial Equality Journey (REJ), the company committed $50 million to support Black-owned businesses over five years, part of PepsiCo's larger REJ initiative totaling more than $400 million to increase representation within the company, support Black-owned businesses, and help to create economic opportunities in the communities it serves.