Texas rapper Post Malone partnered up with the chicken finger chain Raising Cane's to inspire a Dallas Cowboys-themed drive-through and restaurant washed in America's Team's colors.
The Dallas shop, located near I-35E and W. Northwest Highway in northwest Dallas, ditches Canes' usual red and yellow logo for a blue and white one. The brick is painted a shiny silver like a football helmet. Inside, customers will find outfits worn by the Grapevine-raised rapper, including some of his "jorts," socks and sneakers. Designers also hung Cowboys memorabilia like a signed Emmitt Smith jersey.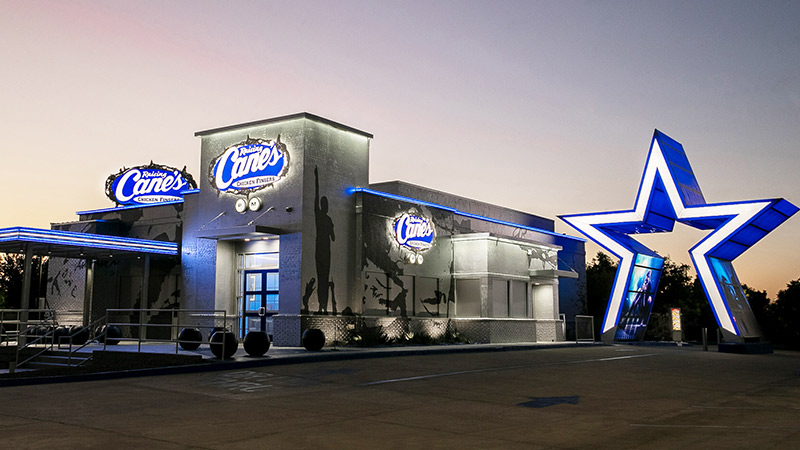 A true Texan at heart, Post was raised under the bright lights of the blue and silver and is a die-hard Cowboys fan. He took that love for America's Team and used it as inspiration when designing the Restaurant, which is marked by a 32-feet-tall Cowboys Star greeting Customers as they enter the Drive-Thru – proving everything really is bigger in Texas.
"Growing up in Dallas, I've been a fan of the Dallas Cowboys and Cane's since I was a kid, so it is an honor to be part of this collaboration with two of the greatest brands in history," said Post Malone.
"First the Post Malone x Cane's Cowboys cups and now an entire Restaurant. We just love the partnership and friendship with Todd Graves, Cane's and Post Malone," said Dallas Cowboys owner, president and general manager Jerry Jones. "We're very proud to be part of this innovative new store and concept and seeing that big Cowboys star in position to greet everyone will be a great reminder and reflection of how much we value and celebrate our continued collaboration."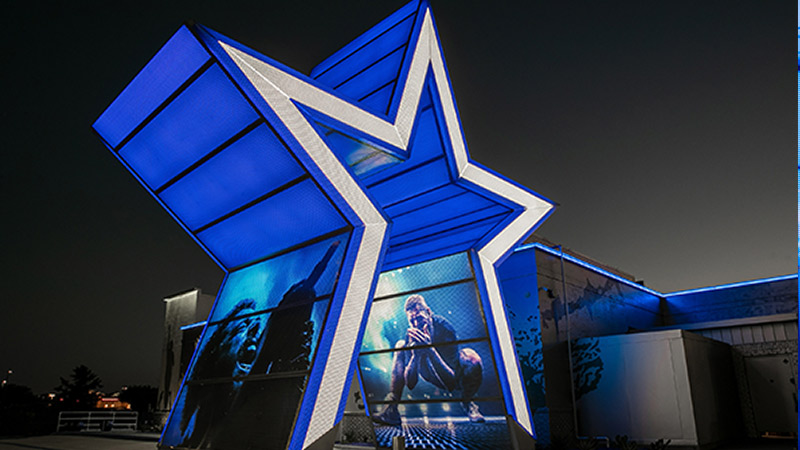 The Restaurant opening marks the latest work in Post's partnership with Raising Cane's, which began from a conversation between him and close friend Todd Graves, founder of Raising Cane's. Growing up eating Cane's, Post made a personal request to open a Restaurant by his home in Midvale, UT. Todd was excited about the idea and the duo kicked off the partnership with a Restaurant in Midvale, which was personally-designed by Post, and continued with the launch of a series of collector's cups, National Chicken Finger Day skit, and more.
"This is an exciting day at Cane's as we open our Restaurant with Post Malone and the Dallas Cowboys. No Restaurant brand has collaborated with a global superstar and sports team on this level, and to see it come to life has been a great experience," said Graves. "Post and the Cowboys have loyal fanbases and we're looking forward to welcoming them to this Restaurant that Austin (Post) designed, whether they're grabbing a bite before a game or after a show, or any time they're in the mood for a Box Combo."
Following Thursday's grand opening, the Restaurant will operate under normal business hours of 9 a.m. to midnight Sunday through Thursday and 9 to 2 a.m. Friday and Saturday.
ABOUT POST MALONE
An 8x diamond-certified GRAMMY® Award-nominated phenomenon, Dallas, TX artist Post Malone regularly rewrites history, blurs boundaries, and incites internet-breaking conversation with every move. Emerging in 2015 with a genre-less brew that inspired a movement, he delivered the diamond-selling "Congratulations" [feat. Quavo], achieved back-to-back #1 debuts on the Billboard Top 200, received countless multi-Platinum certifications around the world, and smashed one record after another with his Hot 100-topping hits. In 2022, he pushed boundaries again with his fourth full-length offering, Twelve Carat Toothache, which marked his fourth consecutive Top 5 bow on the Top 200. It also paved the way for his biggest headliner to date, The Twelve Carat Toothache Tour, taking over arenas for multiple dates in major cities throughout the year. He even scored "the highest-certified single in RIAA history" with the 17x-platinum "Sunflower (Spider-Man: Into The Spider-Verse)" [feat. Swae Lee], netting the biggest single of his generation. In 2023, he garnered a GRAMMY® Award nod in the category of "Best Pop Duo/Group Performance" for "I Like You (A Happier Song)" [with Doja Cat], marking his tenth career nomination in six years.
Three years prior, his 2019 third full-length, Hollywood's Bleeding [Republic Records], represented an audience and critical high watermark. Not only did it arrive at platinum status and eventually go triple platinum, but it also reigned at #1 on the Billboard Top 200 for four weeks and returned to the chart for a fifth week, making for the longest run atop the chart of 2019 and the first release to do so in over a year. The quadruple-platinum lead single "Circles" seized #1 on the Billboard Hot 100 for three weeks. It notably occupied a spot on the chart for a record 39 weeks in total. Speaking of making history, he performed a massively popular Nirvana tribute concert on YouTube, raising over $10,000,000 for the World Health Organization in the fight against COVID-19. Hollywood's Bleeding followed the immense success of the triple-Platinum beerbongs & bentleys, which also landed at #1 a year prior. In the wake of beerbongs & bentleys, Post crushed a record in place for 54 years. He charted nine songs in the Top 20 of the Hot 100, notching "the most songs in the Top 20 of the Hot 100 ever." Moreover, he also trounced the record for most simultaneous Top 40 Hot 100 hits with 14.
As of 2023, his catalog comprises the GRAMMY® Award-nominated "rockstar" [feat. 21 Savage" (Diamond), "Sunflower (Spider-Man: Into The Spider-Verse)" [feat. Swae Lee] (Diamond), "I Fall Apart" (5x-platinum), "Psycho" [feat. Ty Dolla $ign] (5x-platinum), "White Iverson" (5x-platinum), "Better Now" (4x-platinum), and more. Not to mention, he sold out numerous arena tours and hosted and curated his own mega-popular Posty Fest in 2018 and 2019. It all started with his quintuple-platinum influential 2016 debut, Stoney. With records under his belt that will likely never be surpassed and a generation of artists and audiences worldwide under his spell, Post Malone simply doesn't stop.
Most recently, he released his highly anticipated fifth full-length record AUSTIN. The album, self-titled after Post's legal name, is yet another shift in sound for Post and features all live instrumentation produced by Post and his longtime collaborators Louis Bell and Andrew Watt. In June, he received the Songwriters Hall of Fame "Hal Davis Starlight Award."