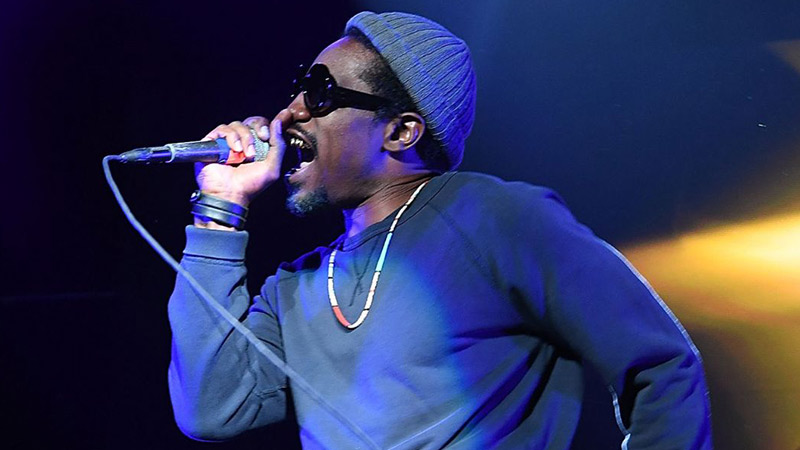 Andre 3000 On Deck with With 87-Minute Flute Album – No Lyrics.
André 3000, one half of the legendary Atlanta hip-hop duo OutKast with Big Boi, will release New Blue Sun on Friday, November 17. The album will be the first collection of new music from the 48-year-old musician since 2006's Idlewild soundtrack. However, it isn't a rap album.
According to NPR, New Blue Sun is not a rap album but an improvisational jazz experiment featuring André and his woodwinds.
New Blue Sun contains "no bars, no beats, and no sub-bass," per NPR. André doesn't rap or sing on the album, but he does "play flute, and plenty of it — contrabass flute, Mayan flutes, bamboo flutes — along with other digital wind instruments."
While speaking with NPR, André spoke about feeling pressure to return to rap after a long hiatus. "Even in our height of what people know of what I've done before, I was always like a slow writer. I'm not a freestyler. I don't be freestyling. I just wasn't blessed with that," he said. "Even during the earlier times, Big Boi, he just kind of got down, like, he's so fast and efficient with what he does."
The New Blue Sun project evolved after André bumped into experimental jazz percussionist Carlos Niño at Erewhon, an L.A. health food chain. "He was like, 'Everybody has been telling me that you were in town playing flute and they were telling me that we should meet,'" he told NPR. The two started to jam together, which led to the new album. It features Niño on percussion, Nate Mercereau on guitar and Surya Botofasina on keyboards.
André told NPR that the first track title — "I swear, I Really Wanted to Make A 'Rap' Album…" — was his way of making sure he didn't troll his fans. "I love rap music because it was a part of my youth," …. "I would love to be out here rapping with everybody, but it's just not happening for me. This is the realest thing that's coming right now. Not to say that I would never do it again, but those are not the things that are coming right now. And I have to present what's given to me at the time."
He also revealed that the album title is meant to refer to a sun in a parallel universe and reflects how the album marks "a new world" and "a new direction" in his music.
The 'New Blue Sun' tracklist:
01. 'I swear, I Really Wanted To Make A "Rap" Album But This Is Literally The Way The Wind Blew Me This Time'
02. 'The Slang Word P(*)ssy Rolls Off The Tongue With Far Better Ease Than The Proper Word Vagina . Do You Agree?'
03. 'That Night In Hawaii When I Turned Into A Panther And Started Making These Low Register Purring Tones That I Couldn't Control … Sh¥t Was Wild'
04. 'BuyPoloDisorder's Daughter Wears A 3000™ Button Down Embroidered'
05. 'Ninety Three 'Til Infinity And Beyoncé'
06. 'Ghandi, Dalai Lama, Your Lord & Savior J.C. / Bundy, Jeffrey Dahmer, And John Wayne Gacy'
07. 'Ants To You, Gods To Who?'
08. 'Dreams Once Buried Beneath The Dungeon Floor Slowly Sprout Into Undying Gardens'