Born to a Russian father and Dominican mother, Fantine is an emerging multitalented singer-songwriter, fluent in English, Spanish, Russian and French. Fantine made her musical debut in 2010, when she came onto the Australian scene by lending her vocals to Space Invada's soulful jazz-inspired single "Super Sweet".
In 2011, Fantine announced "Rubberoom" as her first solo single. The music video aired on Australian national television programs and was awarded "Indie Video Clip of The Week." "Rubberoom" was followed by "Eleven," and then her third single titled "Perfect Strangers," was produced by Jason Cox, producer of multiple albums for popular virtual band, Gorillaz.
Her career began to skyrocket in 2013 when she moved to Miami, FL and began working on her debut album, I Am Fantine, with 19-time Grammy Award winning producer Emilio Estefan and seven-time Grammy Award winning singer-songwriter Gloria Estefan (who also co-wrote two of her songs). Emilio Estefan curated and helped develop Fantine's most popular songs, including "Bachata de Rosa" and "Reservation for Two." In September 2014, "Reservation for Two" peaked at No. 5 on Billboard's Dance Club Songs list.
Fantine's undeniable talent and musical style reflects her eclectic ethnic background. Her voice is a fusion of indie and electro-soul, paired with a "swampy yet sultry" tone. Her upcoming debut album I Am Fantine is infused with Emilio Estefan's signature style and will feature her latest song "What A Day." Produced by three-time Grammy Award-winning producer Wyclef Jean with additional production by Emilio Estefan, "What A Day" also features Wyclef Jean and El Cata.
Recently, Fantine shared the stage with Wyclef Jean at the Miami Beach's Centennial celebration concert. She has collaborated with Australian singer-songwriter Pete Murray, toured with Dave Stewart from Eurythemics, the critically acclaimed Russian jazz saxophonist Igor Butman and also served as the opening act for Erykah Badu at the iconic Sydney Opera House. We caught up with her to see what she's about.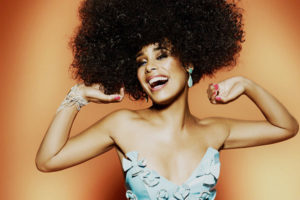 " I hope that my passion for music will not wane, but only grow stronger with the years to come and help me to maintain my integrity and humility, through thick and thin. "
INTERVIEW:
Where are you originally from?
I am Russian born, of mixed Russian/Dominican heritage. 

When did you first fall in love with music, and what were your inspirations to pursue it?
I think I've loved music so long I can't remember not loving it. I committed songs to memory, to the point that I still remember songs my mother sang to me when I was a little kid. But the inspiration to pursue music (as a profession) came much, much later. As a child I listened to Disney, as a teen I listened to Pop music (all the boy/girl bands I'm not ashamed to admit it) and then I progressed into 50's jazz and soul. That's when I really discovered music.
What prompted your decision to make a career out of singing?
Half way through my college degree in law and accounting, I started working in a band occasionally. One day I graduated and realised that pursuing law and accounting would be like going upstream, a constant struggle to be average at both, whereas pursuing music was like drifting with the flow with the current helping to propel me forward.
What's the "live" experience been like? (performing with Wyclef, Dave Stewart from Eurythemics, etc..)
I've always found myself more comfortable on stage than in the studio. I still get terrified those few minutes before setting foot on stage, but that's part of the rush. Sharing the stage with legends like Wyclef Jean and Dave Stewart gave me the chance to be exposed to the sheer scale and energy of their audience, without the pressure of being the focal point. The sizes of their stages was a steep learning curve. Learning to feel comfortable as a small dot in the horizon to some of the people watching and being at ease with both using a lot or a just little of such a large space.
How did you come to the attention of wyclef?
We were introduced by a mutual co-worker, who thought we would be a good match. I guess he was right! After the initial catch up we just hung around Clef's studio and spent the whole time chilling and "catching a vibe" as he likes to say. It was so easy and fun.
Tell us about your new album, and what's all involved with it..
The album is an ever evolving beast. It started out as a beautiful fusion of Latin and Urban sounds that Emilio Estefan so craftily fused together to create a unique sound for me. But then as I added more collaborations to the mix the album started to evolve. I find myself STILL adding and removing songs, shifting them around, collaborating with artists and pushing the boundaries of the direction the album can take. It's funny how things have changed. I remember buying albums and discovering songs that weren't singles on them, now I make my own playlists with music I love and often never even hear the artists full album. Makes me wonder about my own album and the music on it.
Aside from singing, is there anything else that you're aspiring to get involved in or with?
I love writing. Essentially anything. I wrote or co-wrote most of the songs on my album. I also wrote the story lines for all my music videos, and with every consecutive video I realised that I almost prefer to be on the other side of the lens. At the moment I'm dabbling in acting and script writing, still trying to figure out on which side I prefer to be. Who knows, maybe I don't have to choose!
What types of music do you listen to? What artists are you into right now?
I like to listen to what's current. Artists coming out right now are so incredibly talented and I especially like music that pokes out from the masses of the rest of the songs. I fall in love every time I hear Sam Smith, Ed Sheeran or John Legend, I can't help dancing every time I hear OMI, Meghan Trainor, Magic!, Pharell Williams, or Jason Derulo. I am truly inspired by anything Sia. But I never forget the music of those I believe in a few years to be the classics of our time: Amy Winehouse, Adele.
What do you think it'll be that'll give you longevity in music?
It sounds like a cliche and I cringe as I write this but it really does take a lot of hard work and perseverance. But I hope that my passion for music will not wane, but only grow stronger with the years to come and help me to maintain my integrity and humility, through thick and thin.

Whats the future hold for you?
The future holds hopefully a successful single launch, followed by and even more successful album launch. Followed by the creation of another amazing new album and so it goes and the wheels keep turning. Beyond that, who knows! Hope for the best, but plan for the worst, right? That's really all anyone can expect from the future.
Any last words?
Follow me on Snapchat, Instagram, Facebook (page and profile), Twitter, Tumblr. periscope? Did I miss anything? Kidding! Last words: Thank you for the interview! Much obliged xxx