By: Todd Davis
Rapindustry.com
Kevon, the younger brother of Über singer-songwriter-producer Kenneth "BabyFace" Edmonds, started his professional career in music as one third of the R&B trio After 7. 
Comprised of another older sibling, Melvin, and classmate, Keith Mitchell, who is also the cousin of BabyFace's, former, production partner Antonio "L.A." Reid, the collective performed locally before later signing with Virgin Records and eventually unleashing their self-titled, platinum-plus, debut in 1989. 
After 7 would go on to record and release two additional group efforts; Takin My Time' in '92 and Reflections nearly three years later. All three LPs were quite successful, spawning a succession of hit singles, most notably, 'Heat Of The Moment,' 'Don't 'Cha Think,' 'Ready Or Not,' 'Can't Stop,' and 'Nights Like This,' Following Reflections, After 7 went on an undetermined hiatus, with Kevon returning in 1999 with his first and only solo CD, 24/7. The title track obtained gold status, and reached #10 on the Hot 100 Album Charts. 
Now, nearly a decade has passed and Kevon Edmonds is finally returning with his long overdue, still untitled, sophomore set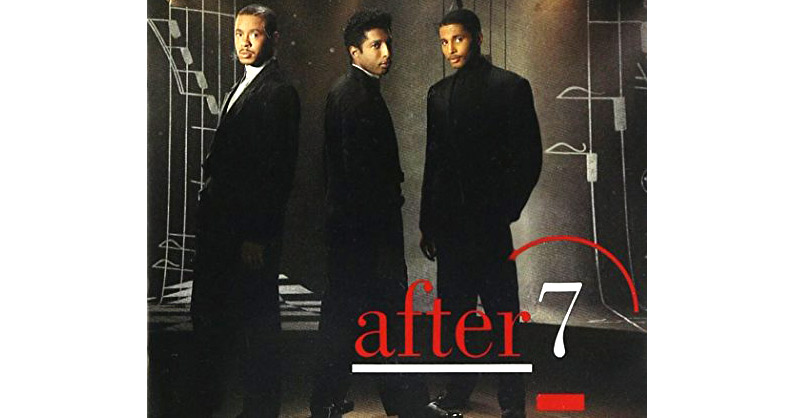 " As to why the group broke up I guess is the easiest way to ask the question, but I think at the time we didn't necessarily view it from that perspective. We as a group had done everything that our label had ever requested us to do as an act, however, the label never was really able to effectively deliver and promote the group on the level that we felt they should have."
INTERVIEW:
Welcome Back, Mr. Edmonds! Well, it's been almost ten years since your first solo release, 24/7, so what's been up since then?
Thank you. I guess that's true to a degree on some level that the masses have not heard from me. However, technically speaking, there is a portion of the masses that have had the opportunity to hear from me through either live performances with either my brother Face, or my group After 7. From about 2002 on, I dabbled in various business ventures that kept me involved with the entertainment industry, but more in a "behind the scenes" fashion. And, that's really all that I've been up to.
Did you actually set out to take such a lengthy recording hiatus?
I did not actually set out with the intention of being gone for as long as I have been. But, it's interesting ('cause) I know that I felt like I needed a break from it all for a minute. But, you look up and time has flown by. But, like most things in this world, they operate in cycles. I guess that my musical career is no different. Sometimes it's nothing more than just timing.
Although 24-7 did in fact go gold, and contained a top ten single in the title track, overall did it meet all of your expectations?
I was very fortunate that 24/7 went gold, especially knowing it was my first attempt at going solo. Overall, and when one takes into account everything, I would have to say that I was well pleased.
There have been talks for sometime now about an After 7 reunion record, especially with all the touring the group has been doing intermittently — Why haven't you all gotten back together to do another CD?
That's a good question, and I don't know that I have an answer that is as good as the question you asked. But, I do know that each of the original members are all doing different things. I will say that we are all pleased with the body of work that we created as the group After 7 for our fans. As far as another CD, well we'll see what the future holds.
So, you're now working on your exceedingly overdue sophomore solo project, correct?
Yes, I am working on my sophomore solo project, and I can tell you that it feels good, good to be creating something new. As of now there are no cameos, but I am pleased with the production teams and individual producers that have come to the project. Kadis and Sean out of Boston produced four songs, while Ms. Courtney has been an extremely talented writer for their camp. (I'm) proud to say that I have a family affair thing going on with two of my nephews producing; Jason Edmonds of The Order, and David "NuDae" Edmonds. Mr. Damon Thomas returns again from the 24/7 album, but this time with a sweet little song co-produced with Mr. Kevin Randolph. I believe that there are some gems to find in this album, but I'll have to let the listener determine what moves them the most.
Is the new record quite different from your solo debut or did you use that age-old mantra "If it ain't broke, don't fix it?"
I believe that this is a solid second effort, and this project will offer more peaks and valleys tempo-wise and subject-wise. Sonically, I think it's different from 24/7. This CD offers more movement rhythmically, and has an overall greater range of color. A while back ago, I got a piece of advice from someone who understands this music business as well as anybody and I thought that it was pretty solid. "Don't allow your-self to be drawn in or influenced by friendships, or by how much big business a company appears to be doing!" In so many words he was saying, "Keep your eye on the ball…You want to choose the company that has the biggest hots for you!" Translation: Go with the company that has expressed the most interest in you. In addition to that, it was also simply a matter of timing.
You seem to have come from a very musical family — As far back as you remember, was music always around you?
As I look back, I don't believe that there was ever a time when I didn't like music.
In our household, it was always playing in some form or fashion. In church, listening to the choir was always the favorite part of the service. And, of course, after hearing the choir we would sneak out to my mother's car and listen to the radio. I sung in school choirs, but I was too intimidated to try singing in the church choir. They seemed to sing on another level. Yikes! I was always close to music, near it, around it, but I guess never truly committed to it. It was not until I attended Indiana University and began to realize that I could possibly enjoy doing this.
Growing up in the Edmonds' household, what type(s) of music were you all exposed to?
When I was younger, I listened to whatever made its way into the house — Either by radio or LPs or 45s. It was a fairly wide range of artists; from Nat King Cole, The Moments, Marvin Gaye, Stevie Wonder, The Dells, Gladys Knight, Earth, Wind & Fire, The Four Tops, The Stylistics, The Mighty, Mighty Spinners, and the list could go on and on. But, we'll stop right here for now.
Since BabyFace is your brother, was music as your career choice pretty much inevitable?
I think that I started to dream about, or rather started to imagine what it could be like to pursue music as a profession, when I was about 19 or 20 and still in college. I had always loved music, been around it in various ways on some level, but I had never given it any real consideration. However, being able to witness how hard Kenny worked, while possessing a true love for music and the determination that he displayed day in and day out, began to pique my interest in terms of wanting to get involved with music in some greater capacity.
What prompted you, your other brother Melvin, and family friend Keith Mitchell to put together a musical group?
The group After 7 that our fans came to know actually came together in 1987. The original members consisted of my brother, Melvin Edmonds, a college friend, Keith Mitchell, and my-self. Before getting signed to a label deal, we would perform around town for the fun of it competing in "Gong Shows," while also working at our full-time jobs. At that time, we did not perform under any name.
You all ended up signing on with Virgin Records — How did that working relationship come to fruition?
Fortunately or unfortunately, in most businesses it can be about "who you know" and not necessarily "what you know." Fortunately for us, it was finally a matter of who we knew and we knew two of the hottest up and coming producers in the business at the time, and one of them was, of course, my brother Kenneth "BabyFace" Edmonds and his partner L.A. Reid. Because of the success they were having, they were willing and able to utilize their relationships and open some doors in our behalf with a new label on the scene, Virgin Records. We were signed sight unseen by the label on the strength of their reputation.
Following the release of Reflections, After 7 parted ways — What caused you all to disband?
As to why the group broke up I guess is the easiest way to ask the question, but I think at the time we didn't necessarily view it from that perspective. We as a group had done everything that our label had ever requested us to do as an act, however, the label never was really able to effectively deliver and promote the group on the level that we felt they should have. And, all the while we were accruing tremendous debt with the label. I think that we as a group, evaluating all the variables, felt as though we had run our course and that it was time to take a much needed break from the business that we knew.
For those who don't know, where did the name After 7 originate from?
The moniker After 7 is a pretty simple story. We were trying to come up with a name because the label, of course, wanted to know who they were signing. One day Kenny was listening back to some messages that were left on his answering machine and there was a message that closed with, "get back with me after seven." Kenny asked us what we thought about the name, and the rest is history.
You are almost twenty years deep into your career, so how have you managed to do it?
I believe that I am still in this business first because GOD has allowed me to be. The very instrument that I use is HIS creation, and neither do I forget that fact or take it for granted. That being said, success can be measured on many different levels and can mean a myriad of different things to different people. If I can continue to perform my music, touch people's lives or move them in some positive or healing way, and hopefully make a living while doing it, then I'm good in the success department. The love for music and being a creatively smart businessman in this industry is what will help me thrive in this business.
In addition to this new CD, are you working or gearing up for anything else?
Oh, I don't know, entertainment and/or some form of communication always appeals to me on some level. With the multi-media avenue so strongly in play today, there are so many new and interesting ways to be involved from a creative standpoint. I'm sure that there is a piece of that puzzle out there for me somewhere as well.
In your lengthy tenure in this biz, how have you seen R&B music change or evolve?
"Everything must change, nothing stays the same." Very true! And, I think it's fair to say that I am happy with the current state of R&B today. Am I ecstatic? Not quite yet, but I believe that the R&B scene is getting better. This industry has evolved in so many ways that I could not even began to expound on it because there would be so much ground to cover. That's an interview dedicated to that question all by itself.
How do you think advanced technology has affected the music industry?
With the advent of any new ideas, as in technology or otherwise, there is always some form of sacrifice or compromise. Today we can check on our flight schedules quickly and efficiently either by phone or via the internet without having to wait on a customer representative to come to the line to tell us what we can learn for ourselves with the push of a button. But somewhere in there, there is a trade off for convenience or progress, if you will, and something's lost. And so, the entertainment business is no different. Not saying that it's fair or that I agree or disagree with it, but in many ways prior to downloading and file sharing there has always been an undercurrent of unfair practices in the music industry. Historically, bootlegging is not a new phenomenon, and has impacted other industries throughout the years and unfortunately the music and film industry are not immune.
Share some personal things about yourself that people may not get from listening to your vast catalog of music…
For those already familiar with my music and for those who will one day hopefully become familiar, there are perhaps some things that I could share that they won't learn from listening to my records. One, I am an early riser…I believe that the morning is the best time of the day. Two, I love a cup of fresh brewed coffee with my morning. Three, besides my brother Kenny "BabyFace" and my brother Melvin, I have three other brothers as well. Four, I have an affinity for "standards," as in songs, and hope to one day put together an album full of them. And finally, who knows, perhaps one day I could be hosting a TV show!
What extracurricular activities do you enjoy doing in your spare time?
Spare time? It's been so long that I'm trying to remember what that is! Seriously though, when I had spare time, and if I should ever see it again, the things that I do enjoy doing are; getting a work out in at least 3 to 5 days a week. I love getting to the theaters to enjoy a good movie on a big screen. I also have a newfound interest in working with glass. And, from time to time, I may partake in a little bit of gardening, and cannot forget to mention fishing, of course.
What do you consider to be your greatest career achievement?
It is truly difficult to determine what has been my biggest career highlight. While being fortunate enough to sale 500,000 units as a solo artist on my first effort might be considered just that, it is not easy to pinpoint one particular event that far outweighs everything else that may have been a part of and contributed to what is even considered a career.
What does the future hold for Kevon Edmonds?
Five or maybe ten years from now, I could definitely see my-self participating more from behind the scenes in the entertainment field, but still doing some live performances. As long as I am healthy, it is hard to imagine not doing what I've been blessed to do for so long on some level.
As for the immediate, what's next for you?
I am excited about what's coming next for me in the immediate future. I realize that I am nearly down to the wire in terms of selecting what the new single is, and I am almost there. However, I can say, with some degree of certainty, that the album or CD will be released sometime in the month of March or April. Don't hold me to the title of the album, but I am leaning toward Who Knew.
As for After 7 — Aside from just performing together, is there a reunion project in the works? If so, when can we, the masses, expect another record?
As for any future music projects for my group After 7, it's hard to say at this point.
However, I believe strongly in what our late president J.F.K. once said, "A rising tide lifts all ships." So, as things get better for some, it will also get better for all. And, when that time comes, After 7, too, stands to benefit from newfound opportunities and forged relationships.
How's your brother Face doing? Is he working with you on the album as well?
My brother, Face, is doing better than fine, and back to being busier than ever. We tried to work it out with his schedule and mine this time around for this project, but this will be the first product that I will release without a BabyFace written song or production.
Darn! Well, what about that long rumored Milestone project — Was it really supposed be a "real" group effort? What happened with that? You all should still do it!!
Milestone…What ever happened to Milestone? Well, at one point it did seem as though it could have gone from a fictional group to something real. However, it got a bit convoluted and became more about company politics between two labels than it was about the musical act itself. Oh well, it was fun while it lasted!
Do you have any parting words?
Let's see…Parting words? I believe that we are all blessed with some kind of talent, doled out to us all in varied portions. There are those that seem to get an extra dose of talent far beyond what most of us get, but we all get some. I encourage all of us to use that talent or that gift that you possess, and if you don't know what that talent is try your best to figure it out. If you have not or cannot figure it out, I understand but keep searching. But, if you do know what your talent is and you are being dormant with it, then know this, that you were not blessed with a gift to waste it, because your gift is not just for you, your gift is for blessing others, too!