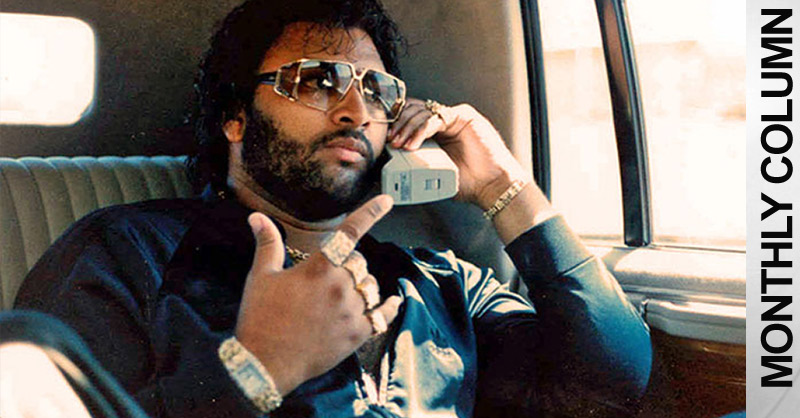 Egyptian Lover – Uncle Jams Army Reunion, reminiscing on the good times.
This is the spot where you'll get to hear from the man himself–The legendary Egyptian Lover. He'll be dropping science on all you youngsters about his journey back in the day and today's hip hop scene. Each month he'll share his stories, his views and opinions on hip hop.
Monthly Column– 
This month: Uncle Jamm's Army Re-Union and reminiscing on the good times.
Written by – Egyptian Lover

Hello all my friends at Rap Industry, This month is a good month.
The Uncle Jamm's Army Re-Union. Wow! I have not seen my old friends in many years. Bobcat, Pooh, K-Day Mix Masters, Mr. Prinze, and all the Old School D.J.'s that use to jam with us. I will get on the turntables with my original vinyl and rock the house. I hear Bobcat is using Serato (Hmmmmm) Y'all know how I feel about that! I'm going 100% Old School on that ass. Playing "Planet Rock" backwards and doing my thing on the wax. Just the the days of the past.
It's crazy to know that it was so long ago when it all started…I was just a kid around 17 years old when I joined Uncle Jam's Army and blew away the crowd with my style of mixing. It was more like Live Editing to me. Making the record longer and giving it more breakdowns. Just keep the people dancing was all I wanted to do. Playing the best songs ever to come out was also a big help. Prince was at the Top of his game, all that Electro Funk was hittin, The West Coast had it on lock. The Dream Team, The World Class Wreckin Kru, The Egyptian Lover, Arabian Prince, and so many groups pressing records out of MaCola was amazing.
Looking back at it all now it seems like only a dream, but I have had the best times on this planet more than anyone. Just think! I was playing "Planet Rock" when it was NEW. It was all happening so fast. Juan Atkins and Cybotron, Pretty Tony and Freestyle, Afrika Bambaataa and the Soul Sonic Force, The Egyptian Lover and Uncle Jamm's Army had to be the leaders of the West Coast. I always wanted to make a record since I was in High School making mix tapes and selling them. When I got in the studio it was a done deal. I was hooked for life. I started out making records with Uncle Jamm's Army and then made my own solo records which was even more fun, I started going to the studio all the time. It was like a dream come true. This young kid producing his own records, running his own record label, distributing his own label and going on tour to promote it and enjoy all that the music biz had to offer. And when the money came in…It came in…Too much!!!
How was a 18 year old kid suppose to know what to do? But I had some great parents and older friends that guided me in the right direction. 🙂 Today I am still the owner of Egyptian Empire Records and the artist. I am doing a lot of concerts, mainly clubs where I can D.J. and show my skills. The younger generation is really diggin it, and my fans are loosing there minds. Other D.J.'s see me using real vinyl and always give me props for draggin out the crates. And when they see me do my thing…Oh but yes…It's really all good then.
I have been doing this D.J. thing for over 25 years and it's always a treat to show off to the crowd. Jamie Jupiter is my #1 Fan and he still gets amazed at the mixing I do. Hell be screamin while we on stage "That was Tight" so if you get a chance, come check me out as I rock the world on this Platinum Pyramids Tour. The Uncle Jamm's Army Re-Union will be Rockin. We got Slick Rick and Doug E Fresh performing and King T and Toddy T. — A must see Old School event. I'll do my Prince set and My Electro Funk set.
It will be Crazy after all these years to mix in front of the people that was there when I first started D.J.ing. I'm sure I will here a lot of old stories. Wow! it's been 25 years… Let's make it 25 more.
See ya next month

Egyptian Lover signing off.