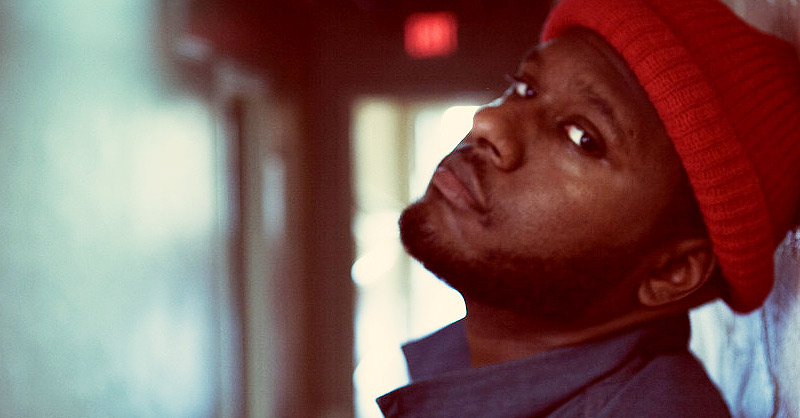 Twenty one year old Chris Batson is a Los Angeles based artist with an amazingly diverse sound. Drawing from relationships with friends, current & past women and his own inner conflicts, Chris is able to paint pictures from his volatile, unstable life experiences, emotions and thoughts. Crafting melodic hooks and impactful verses, Chris's repertoire has continued to evolve thru the years composing masterful instrumentals to go along with his thought provoking lyrics. Expect the unexpected, as Chris unveils his ever-evolving sound to the world.. We caught up with this driven R&B artist to see what's on deck for him.
"The reason I write is to inspire hope." For vocalist and producer Chris Batson, music is a window to the soul, a conduit and a conversation that reveals the inner self through beats, synths and bittersweet lyrics.
If Batson's music burgeons with an undercurrent of urgency, it's because he has a message. "You can't wake up in the morning and not be yourself," he says. "My music is raw and personal; they're all songs that really happened to me." The Los Angeles-based musician explores emotional landscapes that transcend far beyond his 22 years, reflecting his inward struggle for a sense of place. Growing up in Orlando, Florida, Batson felt isolated in his hometown. His parents' divorce fractured his sense of home. Then he found music. At home, he'd produce beats and songs on bare bones production software that offered simplicity and structure. "Back then I was looking up to Neptunes, Dr. Dre, and Timbaland," Batson says about the early mixtapes he produced, which got him local attention for his subtle, yet compelling beats.
"Back then, it was all R&B and pop stuff, which got me heard. But now I've evolved into a more dark, ethereal, and gritty sound." The turn toward complex emotional textures came Batson's existential ardor that reflects the realities of a listless life. "I had dropped out of college and I was back home in Orlando. My friends had all moved away, and I was all alone," he says. "It was just me and my music."
"Anyone who knows my music knows that I write a lot of content heavy songs … but I also have my days where I like to switch it up and be really confident within my writing. And for me IKNOW is the perfect balance between those two sounds. I feel even as a person it represents me well. I have this huge struggle with depression that I talk about often and then I have my days where I feel incredible. It's just a great representation of who I am as an artist and as a person as well and I'm excited about it. "
*INTERVIEW*
What inspired you to get into music?
I walked into a studio one day where some producers were working on songs….and immediately became fascinated with it. Haven't looked back since.
At what point did you know that music would be your passion and tackle it as a career?
When my brothers who usually never wanted to listen to my stuff started liking my material. I knew if they liked it, then I was on to something.
What was it like growing up in Orlando?
For me it was cool. Not much of a music scene. But literally I was so focused on moving away that I never really took the time to enjoy it. I lived there for 20 years…and now that I've moved I do tend to miss it.
What's your take on today's r&b talent coming out?
I dont know man…some of it I like. Some of it I don't. I feel like it gets a little weird at times. But I know I have something good going for myself. And I've crafted a sound. And it's special.
Who are some of the early r&b artists you listen to or try and emulate?
I feel like the biggest influence to date has to be either Frank Ocean or The Dream. Frank Ocean's writing is so left field and it's something that I took to. And the Dream's catchy melodies are the ones that have inspired me the most.
What r&b artists do you like/listen to?
I love Miguel. Love Frank Ocean. But currently I listen to alot of Hip Hop. I go through diff periods of time where I just gravitate to certain types of music.
Anybody you'd like to collab with? ( r&b or hip hop)
Man…I'd love to work with Drake, Kanye, Timbaland, Jay, The legends…. I feel like those are the guys who are gonna make me better
How about hip hop? Who do you listen to?
I listen to alot of the same people I wanna work with…. Drake, Kanye, TImbaland, Jay, I still listen to Eminems old stuff. B.I.G. Pac, Nas.
You say "The reason I write is to inspire hope." can you touch more on that?
If you look at my story…. i've come a long ways …From being broke and depressed in Orlando. To moving to LA. signing two deals. One publishing and another artist deal. It's a story of hope. Like people that deal with what i dealt with sometimes never get out of that….so I want people to know it's possible to make it out.
It's said that you speak openly about having clinical depression and schizophrenia, How do you deal with it on a daily basis?
It's hard. Very rarely do I have a day where I'm just completely okay.. Even til this day… even though things are better for me…it's still a battle. Most people don't understand mental illness. And they overlook the fact that it really does affect you. They'll say "stop being lazy" or "get over it" or "man up" not knowing that this shit is still affecting me. I take medicine. I write my feelings down… and I make music…and that's how I cope.
Is music the main outlet for you to deal with it?
Not anymore… I feel like just writing my thoughts out on paper and keeping a journal is the best outlet for me.
You just dropped the single "I know".. tell us what went into this and why you chose this as a single..will there be a video for it?
It was really just me and Tinashe Sibanda sitting in a room and just vibing out haha. That was a great songwriting day… We chose it as the single because literally not one negative thing about IKNOW has been said when we would play it for people. There will for sure be a video! Coming very, very soon.
What all went into the video for passenger seat? Whats the message here?
Well. Passenger Seat was written when I was in Orlando. Down and depressed and suicidal. It was one of those records I wrote where i just wanted SOMEONE to know what I was going through.. Even if it got 200 listens at the time…I would've been content knowing at least someone knows my story.
What's next for you?
Performing has become something I love. Expect more shows. Expect the video for "IKNOW". Expect The Album P.S. Love Never Dies and just more content overall.