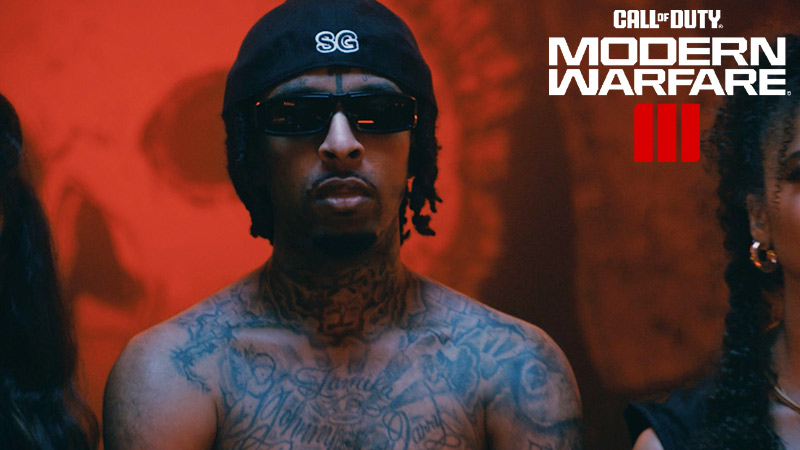 Call of Duty Gets Gamers Ready for Blockbuster Launch of Call of Duty: Modern Warfare III in New Film.
Activision today announced the live action trailer, entitled The Lobby, for the highly anticipated release of Call of Duty: Modern Warfare III.
The Modern Warfare III film brings the in-game Call of Duty video game lobby to life, as we follow an Operator, KillSwitch, getting ready for action. He passes through a real-life Call of Duty lobby, watching fellow Operators preparing for the game action, as a countdown clock signals 30 seconds to match time. Call of Duty fan and musician 21 Savage, NBA star Devin Booker and UK artist Central Cee play cameos in the video directed by Hollywood film director David Leitch. The campaign also marks the first time in-game characters including Ghost, Gaz, Makarov, Valeria and Graves are featured alongside everyday gamers and celebrities.
The film ends with the real-life personalities transitioning to game characters with the message 'There's a Soldier in All of Us.' Call of Duty is re-introducing the line for the first time since 2017 and giving it new meaning to represent its ever-growing player community.
The film and the game will feature an original track composed by One Republic's Ryan Tedder with original verses by 21 Savage and the chorus sung by D4vd, and captures the vibe and tone of this year's blockbuster Call of Duty game. Lyrics and thematics from the song blend both the premise of the game's narrative and film into a song that can serve as an anthem for this year's Modern Warfare III launch and highly anticipated Call of Duty campaign. The song, Call Me Revenge, was released today.
The Lobby film, which released today, was directed by renowned action film director David Leitch, who previously directed Bullet Train, Deadpool 2 and John Wick. Leitch was himself a motion capture actor for the very first Call of Duty game 20 years ago, reinforcing how with the franchise's 20th anniversary, the series has come full circle with him. The Call of Duty 20th anniversary film released on October 5.
Tyler Bahl, Head of Marketing at Activision said, "As we commemorate this monumental milestone for the Call of Duty franchise, we believe it's essential to honor our player community through our work. For the first time, "The Lobby" features COD players, celebrities, and in-game characters squad-ing up together before a match. The film serves as a poignant reminder of our iconic tagline: 'There is a soldier in all of us,' which we are thrilled to reintroduce."
Call of Duty: Modern Warfare III will be released globally on November 10.