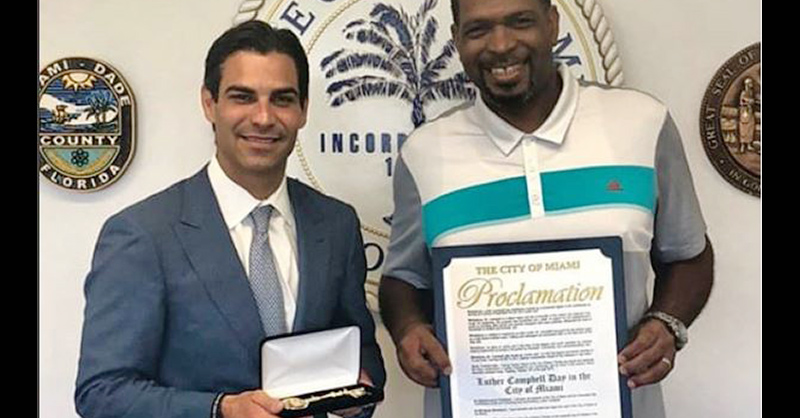 Pioneering entertainer and free speech advocate Luther "Uncle Luke" Campbell was honored with a Key to the City of Miami yesterday (October 16, 2018) in recognition of years of service to his hometown as an entrepreneur, philanthropist and community activist.
The honor comes just weeks after the debut of the multifaceted legend's latest venture, the critically acclaimed STARZ docu-series Warriors of Liberty City, has served to not only change the narrative around one of Miami's toughest neighborhoods but also to spotlight Campbell's decades long dedication to his community.
"Luther Campbell has established himself as a source of inspiration for Miami's youth, empowering them to pursue a life guided by education and entrepreneurship," said Miami Mayor Francis Suarez, who personally presented this most recent honor at Miami City Hall.
Since his controversial entry into the public eye, taking on the Supreme Court in 1994 as a member of ground breaking rap group 2 Live Crew, Luther Campbell has reinvented himself time and again as a music executive, owner of the first truly independent hip hop label, sports analyst, columnist, author and political hopeful. But throughout these various professional evolutions, Campbell has been a consistent advocate for Miami's underserved communities.
That advocacy started nearly 30 years ago when Campbell founded the Liberty City Warriors Optimist Club, a youth sports programs that has become a cornerstone of the Liberty City community. While the Warriors are best known as a pipeline for young football players into the NFL – alumni of the program include Chad Johnson, Devonta Freeman and Teddy Bridgewater – the culture built around the organization goes far beyond the outlet it creates for the kids involved.
"At the height of my music career, I never promoted the program," Campbell told CBS Miami earlier this summer. "It was never about a photo op for me because I was one of these kids. I wanted this to happen organically and it took a long time for this to be exposed to the world. I wanted to show a different side of Liberty City. In this docu-series, we do something that's never been done before. You are a fly on the wall and you get to see black men providing for their families and giving back. You'll see African-American women giving back and a whole community coming together."
"I look at these stories like Blindside," he further explained to Vice Sports ahead of the release of the docuseries, produced in partnership with Lebron James' Springhill Entertainment. "You never see documentaries or movies where a black man is taking care of his own kids," Luke says. "You never hear the story of the community helping a family that needs help." The last of six (6) episodes of Warriors of Liberty City airs this Sunday, October 21st on STARZ at 8pm EST.
In addition to his service through the Liberty City Optimist Club, Campbell continues to use his platform as a columnist for the Miami New Times to speak out on socio-economic inequality in Miami and once famously ran for Mayor of Miami.
Along with receiving the key to the City of Miami, Campbell was also previously honored with the key to the City of Miami Gardens.