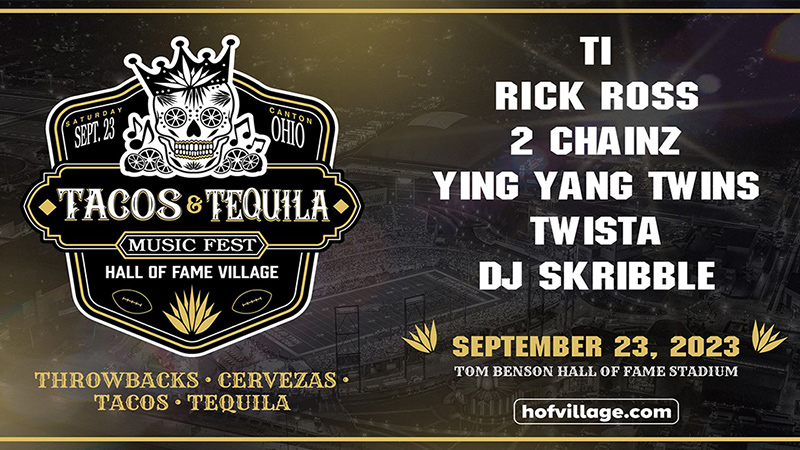 T.I., Rick Ross, and 2 Chainz to Headline Tacos & Tequila Music Fest at Hall of Fame Village.
Hall of Fame Village has announced that Tacos & Tequila Music Fest will be making its way to Canton, Ohio, on Saturday, September 23, 2023. The event will be headlined by a lineup of star-studded entertainers including Grammy-award winners, T.I. (Whatever You Like, Bring Em Out) and 2 Chainz (Givin' Up, We Own It), along with prolific artist, Rick Ross (Hustlin', Aston Martin Music).
Additional performers include hip-hop duo, Ying Yang Twins (Wait, Salt Shaker), midwest-born speed rapper, Twista (Overnight Celebrity, Slow Jamz), and radio personality and producer, DJ Scribble.
Tacos & Tequila Music Fest will transform Tom Benson Hall of Fame Stadium into an electrifying entertainment hub delivering an unmatched experience for all ticketholders. This on-field, all-encompassing festival event brings a chart-topping music lineup, along with Lucha Xtreme professional wrestling matches. Taco and tequila enthusiasts are guaranteed to enjoy a curated line-up of local food trucks, taco stands, and vendors, with themed concessions and bars featuring specialty cocktails, margaritas, tequila samplings, craft beer, and more. Gates open at 2 PM.
"As we welcome the Tacos & Tequila Music Fest to the Hall of Fame Village, we celebrate the perfect blend of music, culture, and culinary experiences. We are excited to be a part of this vibrant celebration and bring this caliber of entertainment to our region," said Vic Gregovits, Executive Vice President of Global Sales.
VIP Experience tickets will feature exclusive access to the fieldside Tequila Tastery with private tequila sampling offerings, limited complimentary tequila samplings, and a reserved section with a private bar and premier viewing of the stage.
About Hall of Fame Village (HOFV):
Hall of Fame Village, a division of Hall of Fame Resort & Entertainment Company, is a 100-acre immersive sports and entertainment destination centered around the Pro Football Hall of Fame in Canton, Ohio. The Village is dedicated to making every experience one-of-a-kind for fans throughout its six venues—Center for Performance, Constellation Center for Excellence, Fan Engagement Zone, ForeverLawn Sports Complex, Play-Action Plaza, and Tom Benson Hall of Fame Stadium. An indoor football-themed waterpark and Hilton Tapestry Hotel are also under construction.