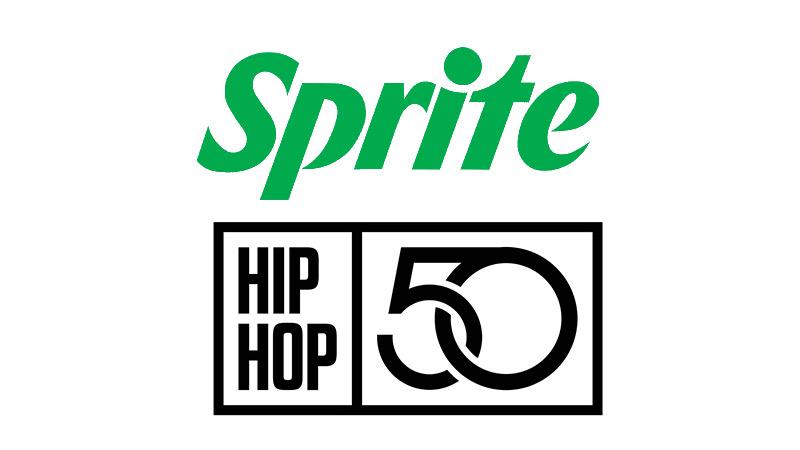 Sprite Honors Hip-Hop 50th Anniversary by Teaming Up with Some of the Genre's Biggest Stars.
Sprite – a brand that has championed hip-hop culture for more than 35 years – will celebrate the groundbreaking genre's 50th anniversary this summer with a buzzworthy TV spot starring a crew of living legends and rising stars, a new limited-edition flavor, sponsorship of one of the year's most anticipated concert tours and a series of exclusive merch and experience drops.
Nas, Rakim, Latto and GloRilla will star in fresh Sprite creative paying tribute to the past, present and future of hip-hop. A remix of The Sugarhill Gang's "Rapper's Delight" – the first-ever hip-hop song to hit the Billboard Top 40 – is infused with memorable bars from the cast of old-schoolers and contemporary artists and anchors the campaign with a rapping, time-traveling love letter to the music that has shaped popular culture over the last five decades.
A.P. Chaney, Creative Director for Sprite North America, said the brand's longstanding hip-hop credentials are unmatched.
"Our resume speaks for itself," Chaney said. "Sprite took a chance on hip-hop before it was cool, and has always been of the culture, not only for the culture. We've shown up for both moments big and small, amplifying the endless possibilities of the now-omnipresent hip-hop lifestyle and its profound impact on music, sports and fashion. So, it's only fitting that we pay homage to all hip-hop has been, is and will be."
Just as the campaign will honor hip-hop history, the new limited-time-only (LTO) Sprite Lymonade Legacy is a remixed nod to the OG crisp, lemon-lime refresher. Sprite's take on strawberry lemonade, which was inspired by fan requests on social media, offers a delicious combination of tried-and-true and something new. The LTO flavor will be available in a range of packages at retailers nationwide, and exclusively in fountain and frozen formats at 7-Eleven stores.
Obeying Thirst and the Verse for 37 Years
Sprite's ties to hip-hop date back to 1986, when rapper Kurtis Blow was cast in the "Now More Than Ever" spot, becoming one of the first hip-hop artists featured in a national, mainstream ad. The commercial inspired the "I Like The Sprite In You" ads featuring popular artists like LL Cool J and Kris Kross. The 90s brought a deeper dive into the genre with the "Obey Your Thirst" campaign starring Pete Rock & C.L. Smooth, A Tribe Called Quest and Grand Puba (who reportedly coined the slogan "Obey Your Thirst" during a rehearsal). Legendary rapper – and star of this summer's campaign – Nas made his Sprite debut alongside AZ on the stoop in 1997. Sprite advertising in the aughts embraced hip-hop's next generation of stars.
In 2013, "Obey Your Verse" celebrated the artistry of 2Pac, Missy Elliott, J. Cole, Drake and Rakim by decorating Sprite cans with some of their most inspirational lyrics. Rakim, who also stars in this summer's campaign, first appeared in a Sprite ad with 2016's "Obey Your Verse – Lyrical Collection" spot.
Sprite's support of the creators and arbiters of hip-hop continued with 2021's virtual "Live From The Label" concert series featuring Latto – also in this summer's campaign – as well as Saweetie, Jack Harlow and more.