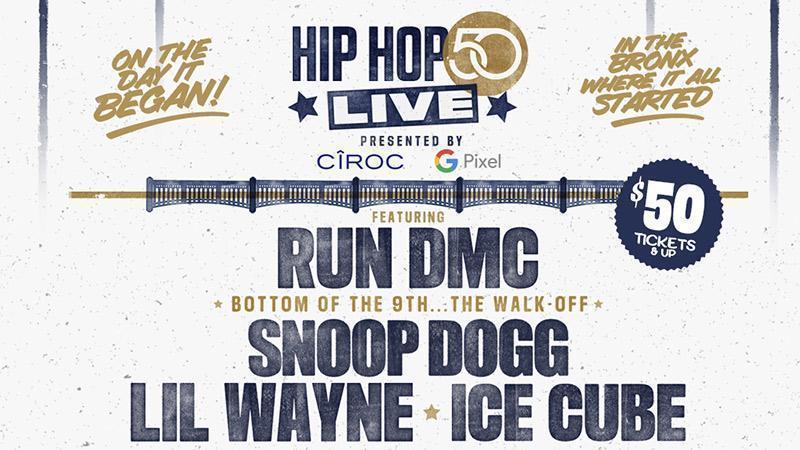 ON DECK: Hip Hop 50 Live at Yankee Stadium To Feature Epic Lineup.
Mass Appeal, Major League Baseball, Live Nation and The Yankees have joined forces to produce an unforgettable celebration honoring the 50th anniversary of Hip Hop.
Global Hip Hop icons will come together and show up for the culture that's given the world everything! Hip Hop 50 Live at Yankee Stadium will take place on August 11, the day Hip Hop officially turns 50, in the Bronx where it all started!
Leading the lineup is Run-DMC, doing what's billed as a "Botton of the Ninth…The Walk-Off!" set, featuring Lil Wayne, Snoop Dogg, Ice Cube, and more guests (SEE BELOW). There will also be a "Queens of Hip Hop" set with Eve, Lil Kim, Remy Ma, Trina, and more; a "Pillars of Hip Hop" set with DJ Kool Herc & Cindy Campbell, Grandmaster Caz, Kurtis Blow, Melle Mel, Roxanne Shante, Scorpio, Sugar Hill Gang, and more; DJ sets from Battlecat, Clark Kent, Mannie Fresh, and Marley Marl; and performances from T.I., Fat Joe, Common, A$AP Ferg, EPMD, Ghostface Killah, Lupe Fiasco, and Slick Rick.
Darryl "DMC" McDaniels said, ""Aug 11th is Hip Hop's 50th birthday! So…'Up in the Bronx' where it all started we will be celebrating this historic moment in history! I am honored to pay tribute to the culture that allowed this little shy kid from Queens to grow up and become The Mighty King of Rock! Thank you Hip Hop!"
"I am honored to hit the stage in the Bronx, the birthplace of Hip Hop and celebrate all of my heroes," Run added.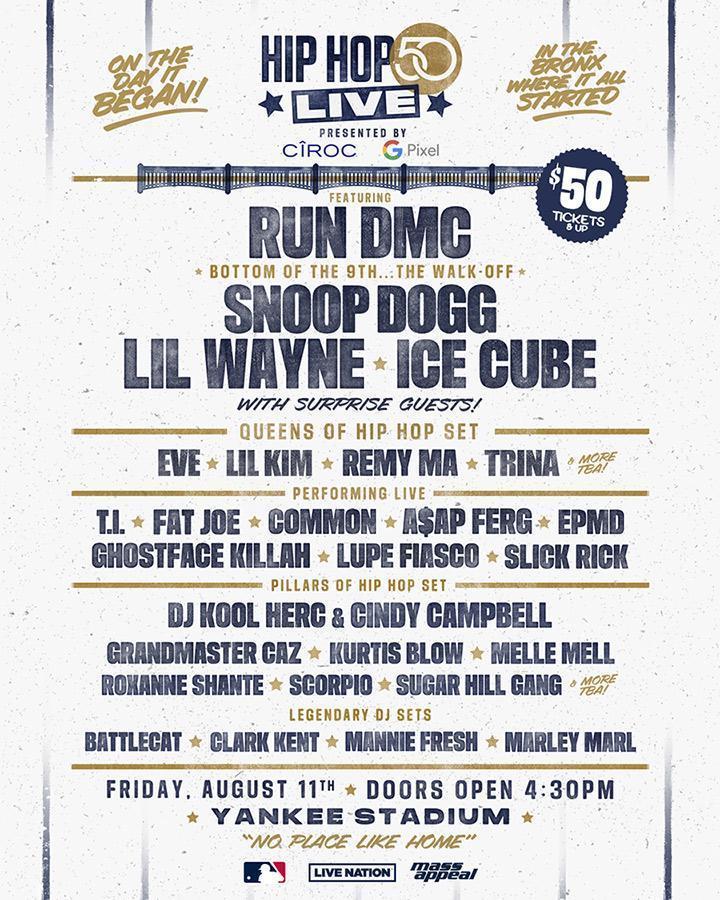 Featuring:
Run-D.M.C.
Snoop Dogg
Lil Wayne
Ice Cube
DJ Kool Herc & Cindy Campbell
Fat Joe
Common
Lil' Kim
Eve
Trina
Remy Ma
T.I.
A$AP Ferg
Slick Rick
Lupe Fiasco
Ghostface Killah
The Sugarhill Gang
Roxanne Shanté
DJ Marley Marl
DJ Mannie Fresh
DJ Clark Kent
DJ Battlecat
EPMD
Kurtis Blow
Grandmaster Caz
Grandmaster Melle Mel
Grandmaster Scorpio