By: Todd Davis
Rapindustry.com
Born and raised in the multicultural city of Toronto, Canada, by Guyanese parents, singer-songwriter Melanie Fiona is the recording industry's latest "it" girl. With her unique blend of R&B vocals, hard hitting Hip-Hop beats, and deep Reggae bass-lines, the black, Indian and Portuguese mixed beauty is all set to take the music world by storm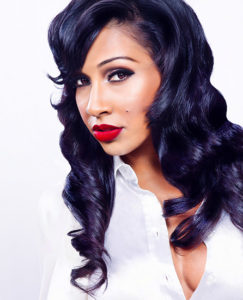 "I was getting a lot of interest from the major labels in the states, and Steve Rifkind came to meet me at one of my recording sessions in L.A.. He loved the music immediately.."
INTERVIEW:
When did your love for music first begin?
I have always had a natural love and attraction to music. My mom used to sing and listen to a lot of music when she was pregnant with me. I was born clearing my throat, and the doctor actually said, "We've either got a smoker or a singer!" At a young age, I couldn't fall asleep without music blaring by my crib. My dad played guitar in a band, and I would sit and watch him rehearse to classic Soul, Reggae and Soca songs. My dad would play the guitar for me and I would sing along.
Aside from your parents' obvious musical influences, what other sounds did you grow up on?
Growing up in North America and having a Caribbean background, I listened to a wide variety of music. All kinds; Soul, Reggae, Soca, Calypso, R&B, Hip-Hop, Pop! But, I always had a great appreciation for the music my parents would listen to; Bob Marley, Sam Cooke, Whitney Houston, The Drifters, (and) Patsy Cline. 
Was music always something that you just knew from early on that you'd eventually pursue professionally?
The love for music was definitely always there. In my senior year of high school, I caught the recording bug and began working with local producers in Toronto. I loved to perform and developed a passion for songwriting. I met my manager from California, and was given the opportunity to work with A-list producers in the states. It was obvious from then. I packed up and started traveling to get my record deal.
With that being said, how then did you end up meeting Mr. Steve Rifkind, later inking with his S.R.C. imprint?
I was getting a lot of interest from the major labels in the states, and Steve Rifkind came to meet me at one of my recording sessions in L.A.. He loved the music immediately, and flew me out to New York to meet the rest of the label. He offered my deal and sent the paperwork over to my lawyer. He even put me in his showcase of new artists before the deal was complete. It said so much about his faith in me as an artist. S.R.C. had the passion for the project that I wanted for my career. It was a perfect fit.

For someone who hasn't heard a Melanie Fiona record, how would you describe it?
If I had to define it, I would call it "Pop Soul." It has the emotion and lyrical content of old Soul music, but fits the format of what Pop music is today. Performed, it is amazing. I think the music becomes even better live. I perform with a live band, singers, deejay, pretty much whatever I can do to make the show as live as possible. I want my audience to enjoy the experience.
Let's talk about your highly anticipated, forthcoming solo debut, The Bridge…
To me, The Bridge is a very special album. It represents everything I am and was musically influenced by. I really wanted to make an album that was classic and that would make people feel the way I feel about music that has touched me. I want people to listen and remember where they were and how they feel when they first hear the music. For me, The Bridge is an album that will bring age groups, genres, ethnicities, (and) genders together.

As a songwriter where do you find your inspiration? 
I'm really inspired by the music itself. Sometimes the music speaks to me and tells me a story that I bring to life. Other times, I am inspired by life experiences; both personal and by people around me. Everyone has a story, and I want to write songs that people can relate to. 
In terms of production, who all did you work with on The Bridge?
I worked with extremely talented producers and writers that really understood the vision I had for the album; Andrea Martin, Future Cut, Vada Nobles, Peter Wade, Jay Fenix, Salaam Remi, Rob Fusari. Although I am not an actual producer, yet (anyway), I had a lot of input on choosing the tracks and the direction of the songs.

What are your favorite thing(s) on or about The Bridge?
As of right now, it's just me…But, I'm not ruling out on any amazing Hip-Hop artists who may want to jump on by the time the album is released. I truly love all the songs on my album, but one of my favorite songs is "Ay Yo" — It's an anthem for the people.
Although you are pretty new to the business, what are your plans for longevity?
Well, the album hasn't come out yet so I hope that it will be successful when it releases. I think the key to sustaining (in) this industry is making smart decisions and good music. For me, I'm fortunate enough to have a team of people around me that are amazing and successful in the industry. Between my management and label, I have a team that believes in the project and wants to see it win. I plan on staying true to myself and true to my fans.
In addition to your music, is there anything else that you want to branch out and do?
I'm definitely interested in the arts all together; film, television, fashion…But, I also love business. Maybe I'll have success in bringing those two together one day.
Are you happy with the current climate of R&B music? 
It's kinda crazy, 'cause to me typical "R&B" music is rare these days. Music is fusing into one sound; "Pop." I definitely miss R&B songs I grew up listening to in the '90's, but like everything else music is changing. I would like to hear more "real" songs out there — Songs with real stories and real music.
How do you feel about this whole "digital age" that we are now living in the midst of? And as an artist, how does it personally affect you?
It is what it is. I think it comes back to the music again. I feel like people don't mind paying for something if they feel they are getting their money's worth. The internet is a great marketing tool, but it has definitely hurt industry sales.

Changing courses, I hear you're a pretty big sports fanatic… 
I like sports; watching or playing. Growing up, I was a bit of a tomboy. 
That's a little surprising! Well, now that you are an in-demand recording artist, what do you miss most about living a "normal" life? 

Sleeping! I love to sleep. In waking hours, I like to eat, shop and spend downtime with family and friends.
To date, what has been your career defining moment?
It would have to be opening for Kanye West on his European tour in November 2008. I love Europe, and was soooo excited to be performing in front of sold out arenas of people. I got to meet a whole new fan-base, and learn from Kanye. It really inspired me to work harder.
Projecting, where do you see yourself in a 5-10 year span? 
I would love to STILL be making music. Hopefully some Grammy's under my belt, and truly just being happy and healthy. 
You mentioned opening for Kanye in '08 — Do you have any future tour plans of your own?
Absolutely! I love performing…And, I'm sure I'll be doing a tour to spread the word about the music and the album. I'm looking forward to meeting everyone along the way.
What can be expected from those show dates?
Expect to have a great time. The show is energetic, fun, sexy…And, LIVE! I enjoy performing so much that I want people to feel that energy. 
Do you have any parting words?
Check me out on youtube.com/melaniefionatv Thank you to my label and management, and thank you to everyone who has showed support so far. And, I'm looking forward to performing in a city near you. Much Love!
Congrats on everything! Good luck with the album! And, continued success to you! 

Thank you so much for the interview! X.O.