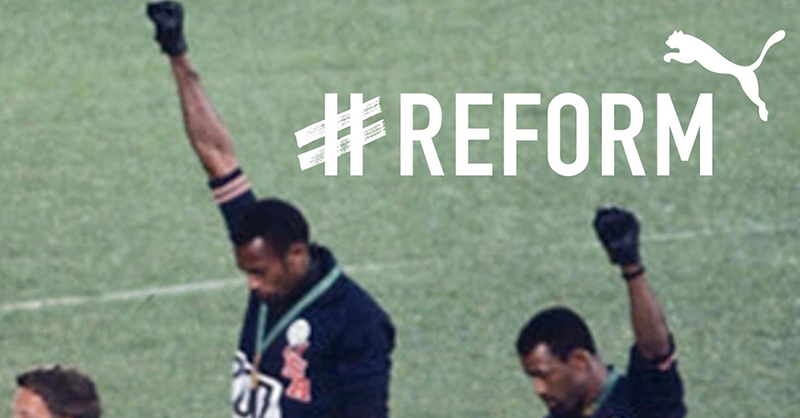 Meek Mill's Push For Criminal Justice Reform Inspire PUMA® Clyde Court #REFORM
Global sports brand PUMA has announced the unveiling of the Clyde Court #REFORM, a basketball shoe inspired by hip-hop artist Meek Mill's advocacy to reform the criminal justice system and Olympian Tommie Smith's activism for universal equality.
The drop also coincides with the launch of the REFORM Alliance, a groundbreaking organization devoted to transforming the American criminal justice system led by award-winning recording artist Meek Mill; Philadelphia 76ers co-owner and Fanatics executive chairman Michael Rubin; entrepreneur, business mogul and PUMA Basketball Creative Director Shawn "JAY-Z" Carter; Kraft Group CEO and New England Patriots owner Robert Kraft; Brooklyn Nets co-owner and philanthropic investor Clara Wu Tsai; Third Point LLC CEO and founder Daniel S. Loeb; Galaxy Digital CEO and founder Michael E. Novogratz; and Vista Equity Partners founder, chairman and CEO Robert F. Smith.
PUMA is the exclusive brand partner of the REFORM Alliance and is proud to support the launch of REFORM Alliance by donating 100% of net proceeds from the sale of the Clyde Court #REFORM to the foundation.
"For more than 50 years, we at PUMA have been big believers in the power that sport has to unite people and push culture forward in a positive way," said Adam Petrick, PUMA Global Director of Brand and Marketing. "To that end, we are very happy to partner with and support Meek and the REFORM Alliance in the pursuit of reforming the criminal justice system."
The Clyde Court #REFORM is inspired by PUMA's long-standing commitment to supporting athletes, artists and advocates who are pushing for reform in the name of universal equality. Meek debuted the shoes on Wednesday, when the REFORM Alliance was formally launched.
"We're excited to team up with PUMA in our fight to reform the American criminal justice system," said Rubin, who is the co-chairman of the REFORM Alliance alongside Meek. "They've been long-time advocates for fairness and equality, so it only made sense to expand our alliance with a partner like PUMA that shares our ambition and commitment to improving the probation and parole system."
Every color and detail applied to the Clyde Court #REFORM sneaker has a relevant meaning, including:
The black represents the U.S. prison system where many people face unjust sentences that do not fit the crimes for which they have been convicted.
The red represents the blood and sacrifice of those who have courageously given so much fighting oppression and injustices over the last 60-plus years.
The gold represents the victories that we will achieve together when organizations and individuals come together to work for much needed reform.
The quote on the heel counter is a direct quote of long-standing PUMA Ambassador Tommie Smith – "We had to be seen because we could not be heard." This represents the obligation we feel to take a stand and visibly work toward reforming the criminal justice system and other institutions that have contributed to an environment of inequality.
The #REFORM logo on the outsole and the tongue shows, with strength and power, the message that we want to clearly convey – that it is time for reform, and that we will continue to work toward our objective of universal equality.
"We are particularly proud of the Clyde Court #REFORM, as it not only takes inspiration from the past but hopefully encourages a new generation of individuals to fight for universal equality," said Petrick.
Several PUMA NBA athletes, including DeMarcus Cousins, and DeAndre Ayton, will support the movement by wearing the Clyde Court #REFORM sneakers starting on January 24th. Additionally, PUMA will donate $5,000 in the name of each player, and in recognition of Tommie Smith's longtime contribution for Universal Equality.