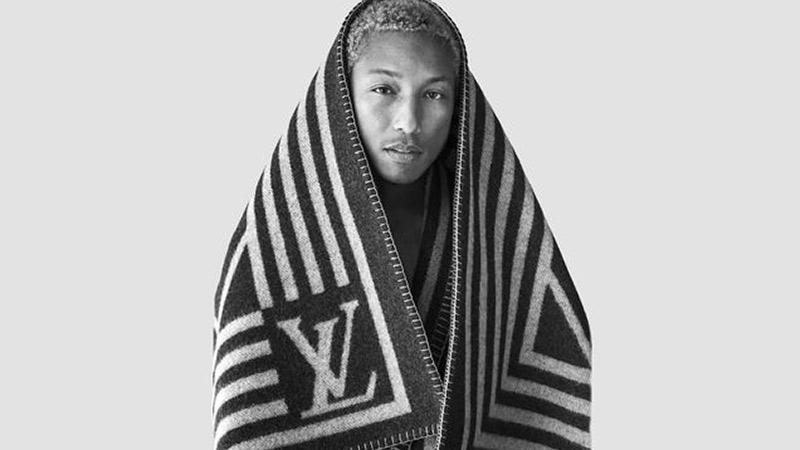 Louis Vuitton Names Pharrell Williams Men's Creative Director
Louis Vuitton has named U.S. musician and entrepreneur Pharrell Williams as creative director of its menswear division, the company said Tuesday.
The announcement marks the first major decision by Pietro Beccari since he took over as chairman and chief executive officer of Louis Vuitton on Feb. 1, and confirms reports in The Wall Street Journal and Le Figaro.
The appointment is effective immediately, and Williams will show his first collection for the house during Paris Men's Fashion Week in June.
I am glad to welcome Pharrell back home, after our collaborations in 2004 and 2008 for Louis Vuitton, as our new men's creative director. His creative vision beyond fashion will undoubtedly lead Louis Vuitton toward a new and very exciting chapter," Beccari said in a statement.
The position had been left unfilled since the untimely death of his predecessor, Virgil Abloh, in November 2021. Industry observers had speculated that Vuitton could tap an emerging designer, with names including Martine Rose, Grace Wales Bonner and Samuel Ross rumored to be under consideration, or someone from outside the world of fashion entirely.
Despite the absence of a creative director, the brand continued to stage high-profile men's shows featuring live performances by the likes of Tyler, the Creator, Kendrick Lamar and Rosalía, underlining its strategy of creating 360-degree entertainment experiences for a global online audience of millions.
In January, the house tapped KidSuper founder Colm Dillane as guest designer for fall 2023, leading to speculation that he might be offered the position full time. But that possibility was thwarted by the departure of Michael Burke after 10 years at the management helm of the world's largest luxury brand, and the arrival of Beccari from Dior.
With his multihyphenate résumé, Williams has a similar profile to Abloh, who juggled his duties at Vuitton with his own label, Off-White, as well as side gigs that include DJing as well as art, furniture, jewelry and industrial design.
Abloh is widely credited with redefining the role of creative director into something closer to a curator, rather than simply a clothing designer, and his tenure at Vuitton coincided with the brand's diversification into areas including gaming and sports.
Williams, whose activities extend to film and television, music festivals and nonprofits, is expected to spend at least a third of his time at Vuitton, on the understanding that it will be his most high-profile undertaking, according to sources with knowledge of the matter.
In an interview with The New York Times in 2020, Abloh revealed he was profoundly influenced by Williams in the early 2000s.
"The prototype at the time was that you had to be a thug or an athlete or a rapper. And then he came along with a different panache as a producer, an artist, a tastemaker, an individual. That sort of held a mirror up for me — it was a new prototype, and it came with a new sound. A lot of the freedom that exhibits in my practice is of that same sort of risk-taking," Abloh was quoted as saying.
Since the two men were friends, Williams is expected to be a keeper of Abloh's legacy at Vuitton, in addition to bringing his own flavor as an international style icon known for his adventurous, gender-fluid approach to fashion, with a fondness for bright color and jewelry.
Williams is a powerful creative force who has founded several clothing brands including Billionaire Boys Club and Icecream, the streetwear labels he launched with Japanese designer Nigo, who is now the creative director at Kenzo, which like Vuitton is owned by luxury conglomerate LVMH Moët Hennessy Louis Vuitton.
In 2004, the "Happy" singer codesigned a line of eyewear for Vuitton that was followed by a jewelry collection for the house in 2008, when Beccari was a senior executive at the brand. The two are said to have started discussing the prospect of Williams taking on the menswear role in late November, managing to keep the talks under wraps until almost the last moment.
In another high-profile luxury tie-up, Williams dropped a sneaker collaboration with Chanel in 2017 that generated a waiting list of 120,000 people for 500 pairs. That was followed by a unisex clothing collection in 2019, designed with the brand's late creative director Karl Lagerfeld.
He has also launched a series of hit sneakers, starting with a collaboration with Nike in 2004, which was followed by shoe designs for brands including Reebok and Timberland. In 2014, he entered a long-term partnership with Adidas, helping to fuel its NMD range with a series of highly coveted NMD Human Race (Hu) styles.
His contract as brand ambassador for Chanel has ended, while the Adidas deal will continue, sources said.
Last year, Williams revealed he was collaborating with Tiffany & Co., and he's regularly seen wearing the almond-shaped diamond-studded sunglasses that he designed for the U.S. jeweler, a more recent arrival in the LVMH stable. In a post on Instagram on Tuesday, Tiffany executive vice president for product and communication Alexandre Arnault confirmed that jewelry designed with Williams was in the pipeline.
In addition to scoring global hits such as "Blurred Lines" and "Get Lucky," Williams is a prolific producer and songwriter who has worked with artists including Beyoncé, Jay-Z, Rihanna, Kanye West, Calvin Harris, Madonna and Ariana Grande, to name just a few.
The winner of 13 Grammy Awards, he has also been nominated for two Academy Awards: in 2014 for Best Original Song for "Happy," and in 2017 for Best Picture, as a producer of "Hidden Figures."
In recent comments, LVMH chairman and CEO Bernard Arnault has underscored Vuitton's role as a cultural connector. "We sell much more than fashion," he said in January 2022, citing the example of the Louis Vuitton show unveiling the last collection designed by Abloh, who died at the age of 41 from a rare form of cancer.
The display featured a soundtrack composed by Tyler, the Creator, played by an orchestra conducted by Gustavo Dudamel, the music director of the Paris Opera, and choreography by Yoann Bourgeois.
"It was a performance, and that's the spirit of Louis Vuitton. It's much more than a fashion brand. It's a cultural brand with a global audience," Arnault argued.
In 2022, sales at the brand topped 20 billion euros for the first time, the luxury mogul said last month, as LVMH reported another year of record results, with group revenues of more than 79 billion euros.
Williams comes with solid environmental credentials, having served as creative director of Bionic Yarn, a company that makes textiles, polymers and other materials from plastic and other recyclable waste recovered from the ocean.
Vuitton has set out a list of environmental goals that it aims to meet by 2025, including that one-third of its product categories — leather goods, small leather goods, luggage, shoes and perfume — deploy an eco-design process that includes a life-cycle assessment. It also has a host of climate objectives for 2030, including a 55 percent reduction in greenhouse-gas emissions.
Williams also has a foothold in the rapidly growing wellness segment via his Humanrace brand, launched in 2021, which also aims to use more sustainable packaging, including refillable bottles. S: WMD
View this post on Instagram