E-40 announces that his most recent album, Practice Makes Paper, reached #4 on Billboard's Top Rap Albums Sales Chart, marking the Vallejo native's 19th appearance in the chart's top ten. The rapper's 19th appearance on the Rap Album Sales Chart ties Tech N9ne for second-most top ten appearances in the history of the chart, which dates back to 2004. E-40 and Tech N9ne trail only Gucci Mane, who leads the pack with 20 top ten albums on the chart.
Prior to 2004 and the creation of Billboard's Top Rap Album Sales chart, E-40 charted seven albums in the top ten of Billboard's Top R&B/Hip-Hop Albums chart. His new album Practice Makes Paper is E-40's 32nd album to place on the Billboard 200, extending yet another chart record for The Counselor.
Says E-40, "I've been in a friendly competition with my brother Tech N9ne for years about us being neck and neck for having the most Top 10-selling rap albums on the Billboard charts. Some years I'm ahead and other years, he's ahead but with my 28th solo album, Practice Makes Paper debuting at #4 on the Rap Album Sales charts, we both now hold the record for 2nd place with 19 Top 10-selling albums on Billboard, right behind Gucci Mane who has 20 Billboard top ten-selling rap albums. Congrats to Gucci! Congrats to Tech! Congrats to me!"
Spanning 26 tracks that explore every corner of the rapper's headspace, Practice Makes Paper is a testament to 40 Water's need to succeed and dedication to his craft, which drives his prolific and high-quality output. The new album is enhanced by countless guest appearances, ranging from longtime collaborators and Bay Area OGs to some of the hottest names in rap, proving the Counselor's impressive influence and unmatched longevity in the rap game. The album boasts hit posse cut "Chase The Money," which has over 14.9 million views on YouTube and 4.9 million streams on Spotify. Peaking at #5 on Billboard's R&B/Hip-Hop chart, at #9 on Billboard's Independent Albums chart, and #65 on the Billboard 200, Practice Makes Paper is available everywhere.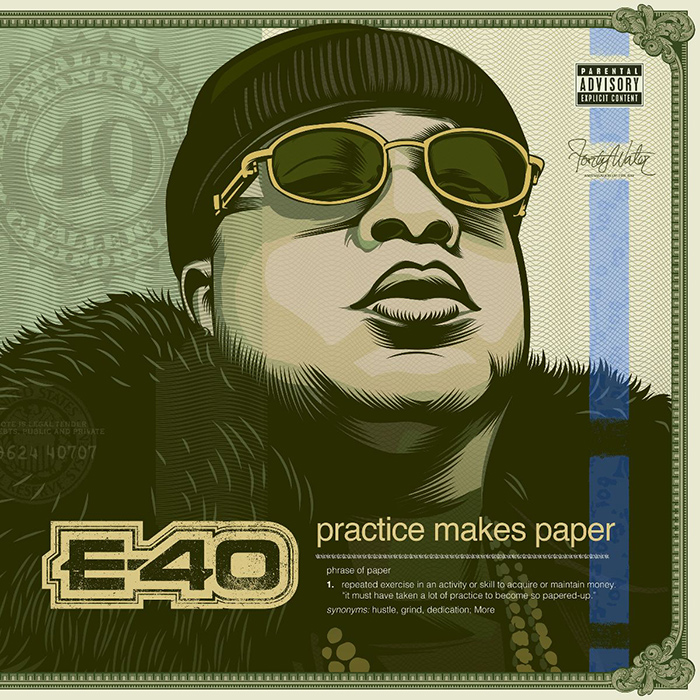 In addition to his legend status in the rap game, E-40 is a mogul in the world of adult beverages. His popular brands of liquor, including premium tequila E Cuarenta, Earl Stevens Selections wine, and pre-mixed cocktail Sluricane, can be found at retailers across the West Coast and Midwest, including Safeway, BevMo!, Total Wine & More, Save Mart, Albertson's, FoodMaxx, Raley's, Lucky Supermarkets, Costco, and more.