The newest community event and seasonal release for Call of Duty®: Black Ops 4 is available now on Playstation®4, with other platforms to follow. Operation Spectre Rising delivers assassin-themed updates across the game, including a beloved Specialist, big changes to Blackout, new game modes and personalization items, as well as adding three Multiplayer maps and a special summer-themed event.
"The community has anticipated Spectre's return for a long time, and that's inspired us to build Operation Spectre Rising all around this shadowy, fan-favorite assassin and the wetworks theme," said Dan Bunting, Co-Studio Head, Treyarch. "This new Operation delivers lots of new game modes and fun ways to play Black Ops 4, including some really cool changes to the Blackout map following Spectre's dramatic introduction – players won't want to miss this event!"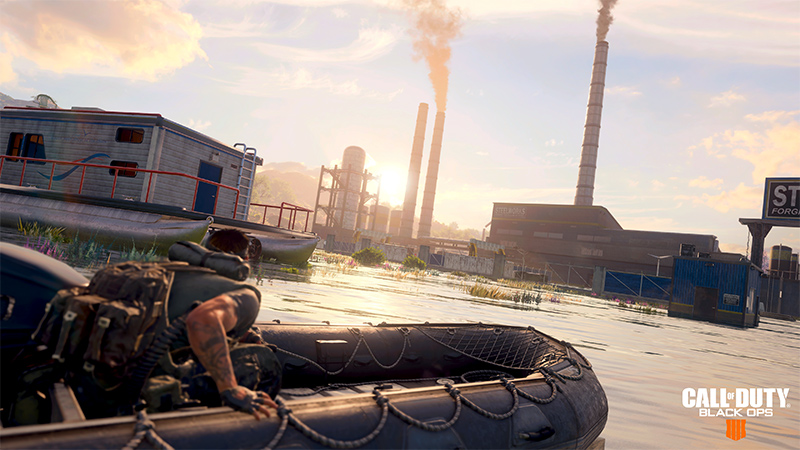 Operation Spectre Rising's free, new content includes:
The Assassin Specialist – Available in Multiplayer and Blackout, Spectreintroduces a new gameplay innovation with a unique Shadow Blade melee weapon, and channels players' inner assassin to skillfully strike targeted enemies for quick and stealthy kills. This fan-favorite Specialist also wields a smoke grenade that not only provides instant cover to move undetected, but also reveals enemies.
New Blackout Updates – In Blackout, Spectre has ruptured the famous Hydro Dam causing a massive flood, altering the landscape and forcing players to adapt in order to survive a wide variety of combat situations, while outrunning the Collapse. Additionally, players will have the opportunity to discover updates in Alcatraz like the addition of the Tactical Raft and more.
New Black Market Gear – The Black Market has been restocked with a variety of new weapon camos, outfits, gestures, and accessories themed forOperation Spectre Rising. This includes notable weapons like the Tigershark LMG and the Nifo'Oti melee weapon, all unlockable through the Contraband Tiers as fans play through the game.
New Zombies Features – Operation Spectre Rising introduces new weapons across all Zombies maps, Classic Elixir Restock feature, and Hard Mode Gauntlet challenges throughout the season.
In addition to the free content, Black Ops Pass owners gain access to even more in-game content, available first on PlayStation®4:
New Multiplayer Map, Masquerade – A medium-sized map set amidst an embassy under siege. Masquerade is structured for mid-range combat as players must weave through markets and city alleyways to get to the fortified embassy courtyard.
New Multiplayer Map, Artifact – A larger-sized map set in a remote landscape where treasure hunters have located and unearthed an ancient artifact. The map is filled with a variety of rock formations from thermal geysers to ice caverns. Combat is fierce with engagement ranging across environmental hazards on a vertical map.
New Multiplayer Map, WMD – Remastered from the original Call of Duty: Black Ops, WMD is a medium-sized map set in an active weapons manufacturing facility. Combat takes place in a combination of interior and exterior engagements at different ranges that supports all types of weapon types and playstyles.
New Blackout Character, Uncle Frank – Black Ops Pass owners get instant access to Uncle Frank, also known as the older version of Frank Woods. This iconic, fan-favorite character originally from Call of Duty: Black Ops II makes his debut in Blackout.
"The team has worked hard to offer a real diversity of content with Operation Spectre Rising, while providing a thoughtful cadence that keeps the experience fresh across the entire breadth of the game," said Mark Gordon, Co-Studio Head of Treyarch. "FromSpectre debuting in Multiplayer and Blackout, to design modifications that will allow us to share content on a more regular basis, Operation Spectre Rising really shifts this season into a higher gear."
In addition to the content releasing now with Operation Spectre Rising, spring turns into summer in June with the annual Call of Duty Days of Summer community event. This limited-time event will debut new game modes, seasonal themed customizations and accessories for fans to acquire.
The Black Ops Pass* is included in the Digital Deluxe Edition, the Digital Deluxe Enhanced Edition, the Pro Edition, and the Mystery Box Edition of Call of Duty: Black Ops 4, and can also be purchased standalone digitally or at participating retailers.