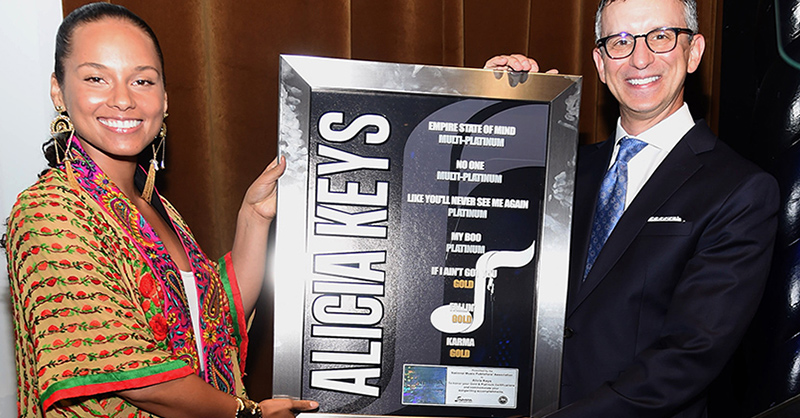 Alicia Keys received the organization's Songwriter Icon award at the annual National Music Publishers Association meeting in New York. She used her moving speech (SEE BELOW) to announce a pro-female collective called She Is the Music.
Keys delivered a 10-minute acceptance speech. She thanked Kerry Brothers — her songwriting collaborator "since back in the dizzay"; her "magnificent publisher," Universal Music Publishing CEO Jody Gerson — "who's been with me since I was 14!" and former EMI chief Marty Bandier; longtime engineer and "brilliant entrepreneur" Ann Mincileli, her first manager Jeff Robinson, her "beautiful mother," her "most magnificent, amazing husband Kaseem Dean (a.k.a. Swizz Beatz) "who has taught me everything about dreaming in color," and finally everyone at NMPA.
Alicia Keys Announces Music Industry Initiative for Female Advancement
Alicia Keys announced on Wednesday the formation of a music-industry group for female advancement called She Is the Music, as part of her acceptance speech for the Icon Songwriter honor at the National Music Publishers Association's annual meeting in New York.
"I've joined forces with a group of really powerful female executives, songwriters, artists, engineers, producers and publishers to help reshape the industry that we all love by creating real opportunities and a pipeline of talent for other women," she said. "We're calling our initiative She Is the Music. We want to create a model for change that effects women across all industries. We deserve the utmost respect, and so many of these women across industries are telling our culture that time is up on double standards, and it is it's over for pay inequity and colleagues who are at best disrespectful and at the worst unsafe — so it's over for that."
She spoke at length about the issue in her 10-minute acceptance speech. After thanking the family members, collaborators and executives closest to her, she continued:
"It's especially meaningful to receive this award right now as a woman in the music industry. (applause) My mama taught me that every year is the year of the woman so I never thought (inaudible), but this year is definitely something else. It's a powerful year, it's an empowering year, and it's the beginning of so many things. And many of us in the music world are working more diligently than ever to showcase and support the work of female songwriters, musicians, engineers, and producers.
"We have to do something because the statistics are brutal," she continued, citing statistics from a University of Southern California's Annenberg School for Communication and Journalism study of Grammy nominees earlier this year.
"Of almost 3,000 pop songwriters credited last year only 12% were female, only 3% of the engineers were female, and one of them is Ann [Mincieli, Keys' regular engineer]. Only 2% of producers are female and one of them is me! Our world is 50-50, and it's time for our industry to reflect that.
"So this reminds us all to continue to be conscious and present of the diversity we want to see in the workplace, and how we can make it better. So the next time that you get a chance to hire someone, whether it's the biggest producer or the newest intern, look for a woman — especially a woman of color, a fresh voice, who brings something new to the spectrum. She is the music so give her a shot!
"Songwriters tell our stories, they sing who we are as people — don't we all want to hear from all of us? My ancestors' spiritual songs told their stories and gave them strength, and we're all stronger because of it. And today's battle for civil rights still draws on the power of protest songs written decades ago by Sam Cooke, Otis Redding, Bob Dylan, Bob Marley, Joan Baez, Nina Simone, Buffy St. Marie, Carole King, Joni Mitchell, Aretha, Tina, Dolly Parton — picking up that powerful torch and speaking the truth of women and our inner lives. And there are so many people carrying that forward: Mary J., Sia, SZA, Kacey [Musgraves], Solange, Janelle [Monae], H.E.R., and so many more talented female writers are running with that torch today and lifting all of us up.
"And I hope that when we look back on the first part of the 21st century that we as songwriters continue to capture the passions and problems and possibilities of this moment we're in, so that future generations will know who we are and what really stand for.
"The songwriter is more powerful than any politician and any government because she reaches directly to the people and she uses her talent and skill and puts time in a capsule —ideally a capsule that holds about four minutes of material (laughter) — or if you're Isaac Hayes about 20 minutes! God bless him too. And if she's lucky as I'm blessed to be, her words will forever be sealed in our memories and our history and our hearts.
So I thank you and I'm so grateful for this honor and for your work to continue, so we can all get what we deserve and to be a creative force that makes our hearts sing and makes love the forefront, and shows the world that magic and alchemy is possible every day." Source: Variety