"We all gotta stop buying, wearing, and supporting this piece of sh*t company and all piece of sh*t companies until they learn to respect our dollars & value our business!!!! Our culture runs this sh*t!!! We (people of color) spend $1.25 trillion/year (but are the least respected and the least included) and if we stop buying anything they must correct any and all of our concerns."
"I, Spike Lee Of Sound Mind And Body Will No Longer Wear Prada Or Gucci Until They Hire Some Black Designers To Be In Da Room When It Happens," Lee wrote in a post on Instagram. "It's Obvious To Da Peoples That They Don't Have A Clue When It Comes To Racist, Blackface Hateful Imagery. WAKE UP. Ya-Dig? Sho-Nuff. And Dat's Da 'Coonery And Buffoonery' Truth,Ruth."
Gucci Pulls "Blackface Sweater" From Stores After Complaints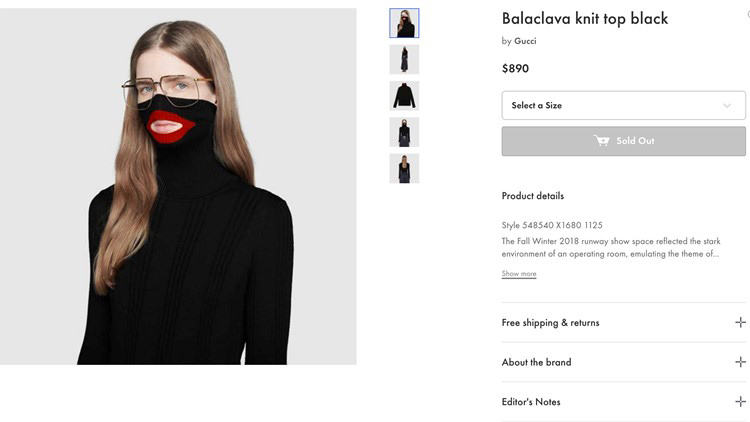 Gucci has apologized for the wool sweater that resembled a "blackface" and said the item had been pulled from its online and physical stores.
The turtleneck black wool balaclava sweater, which sells for $890 on one site, covers the nose and includes a red cut-out for the mouth. It was ridiculed on social media as insensitive and racist, at a time when the U.S. is grappling with cases of old photos of politicians with their faces blackened.
Gucci published the apology, "We consider diversity to be a fundamental value to be fully upheld, respected, and at the forefront of every decision we make," the brand stated.
Gucci deeply apologizes for the offense caused by the wool balaclava jumper.
We consider diversity to be a fundamental value to be fully upheld, respected, and at the forefront of every decision we make.
Full statement below. pic.twitter.com/P2iXL9uOhs

— gucci (@gucci) February 7, 2019