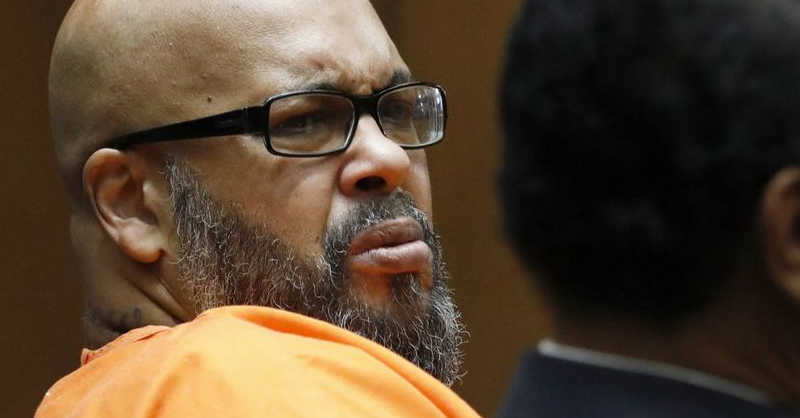 Suge Knight to serve up to 28 years after pleading no contest in 2015 hit-and-run death
"Suge" Knight pleaded no contest to voluntary manslaughter Thursday, marking the end of a years-long legal saga for the man who was once described as the "most feared man in hip-hop."
Knight reached a plea agreement Thursday in connection with the 2015 hit-and-run death of Terry Carter outside a Compton restaurant after a dispute related to the film "Straight Outta Compton."
Knight, 53, could serve up to 28 years in state prison.
Dressed in orange jail scrubs, the onetime hip-hop juggernaut stared straight ahead as Judge Ronald S. Coen detailed the plea agreement Thursday afternoon. He simply replied "Yes" when asked if he accepted it.
Crystal Carter, the youngest daughter of Knight's victim, rushed out of the courtroom wearing sunglasses after the plea deal was struck. A pendant reading "Carter" hung near her heart.
She said it was a relief to see the court proceedings, which had become "a complete circus," wind to a close after three and a half years.
"But it will never be a win to the family," she said. "Can't bring my dad back."
Knight's attorney, Albert DeBlanc Jr., first contacted the Los Angeles County district attorney's office about a possible plea deal Wednesday, according to Lillian Carter, the victim's wife.
Negotiations stretched into early Thursday afternoon, with Knight at one point fighting against the idea of having to take the plea in the presence of media lining the courtroom, according to a source familiar with the negotiations. The source requested anonymity to discuss the case candidly.
The manslaughter charge carries an 11-year prison sentence, which will be doubled in Knight's case because he has a prior felony conviction, according to a statement released by the Los Angeles County district attorney's office. An additional six years will be added to that sentence because Knight was charged with using a deadly weapon to commit a violent felony, prosecutors said.
Knight will be sentenced Oct. 4, and prosecutors agreed to dismiss his other pending criminal matters as part of the deal. Knight had been separately accused of threatening "Straight Outta Compton" director F. Gary Gray and robbing a photographer in Beverly Hills.
Knight has been behind bars since January 2015, when he was arrested and charged with intentionally ramming his Ford F-150 pickup into two men in the driveway of Tam's Burgers at Central and East Rosecrans avenues in Compton. He originally faced life without the possibility of parole if convicted.
Carter, a 55-year-old Compton native who knew Knight through the music industry, was killed. Cle "Bone" Sloan, who was involved in a physical altercation with Knight moments before the incident, was severely injured but survived.
Knight and his legal team have described the victim as a longtime friend and previously said the mogul was "heartbroken" to learn Carter had been killed. Carter's wife, Lillian, disputed that in a recent interview with the Los Angeles Times, saying that her husband only knew Knight through business dealings and that the two had not been close in several years.
A Compton native, Carter grew up on Piru Street — the block from which the notorious sect of the Bloods street gang takes its name — but he was well-known for helping young men avoid gang life, according to his family. An entrepreneur with a penchant for building custom lowriders, he also worked as a car salesman and music producer, and he owned several automobile businesses and limousine services, his wife said. Carter also founded Heavyweight Records alongside rapper and actor Ice Cube.
He first met Knight in the early 1990s, after the mogul and rapper Dr. Dre asked him to build a custom car for a giveaway as part of the promotion for Dre's solo debut album, "The Chronic," according to his wife.
The hit-and-run crash followed an argument on the set of a commercial for "Straight Outta Compton," which chronicled the rise of the seminal hip-hop group N.W.A. Authorities say Knight, who was depicted in the movie, was upset about not receiving financial compensation for the use of his likeness.
Footage from the burger joint's security camera shows Knight's truck barreling into Carter and Sloan. Knight — who fled the scene but eventually turned himself in — originally pleaded not guilty, arguing that he acted in self-defense. His legal team had long claimed there were men with guns at the scene attempting to injure or kill Knight, but prosecutors have contended there is no evidence to support that.
Knight's case had evolved into a bizarre and winding legal saga long before Thursday's plea agreement. In the three years since his arrest, Knight has tried to bolster his self-defense argument by claiming a hit man hired by Dr. Dre was present at Tam's on the day of Carter's death. Knight has cycled through more than a dozen attorneys on the murder case, seemingly firing lawyers indiscriminately. As recently as Wednesday he pleaded with Coen to fire his court-appointed defense attorney.
Knight's reputation for intimidation also loomed large over the proceedings. During a preliminary hearing in 2015, Sloan broke down in tears on the stand and refused to cooperate with prosecutors, despite suffering serious injuries when Knight smashed into him with a truck.
"I'm no snitch," he said at the time. "I will not be used to send Suge Knight to prison."
Gray also refused to cooperate with prosecutors in a hearing related to the criminal threats case against Knight, according to a transcript reviewed by The Times. Investigators with the L.A. County Sheriff's Department had produced text messages detailing the threats, and Gray himself called the LAPD after the 2014 incident, records show.
Prosecutors also accused Knight of conspiring with his fiancee and some of his prior attorneys to manipulate the case. Two members of Knight's legal team — Matthew Fletcher and Thaddeus Culpepper — were arrested on charges of witness tampering this year. Knight's fiancee, Toi-Lin Kelley, is serving three years in prison for helping Knight violate a court order that barred him from communicating with anyone other than his attorneys. She was also accused of helping arrange the sale of a video of the killing to gossip website TMZ, court records show.
Still, Knight was oddly jovial in the courtroom over the years, bantering with Coen and delivering one-liners. Knight kept it up Thursday as Coen read aloud boilerplate plea deal language explaining that if a defendant is not a citizen, a conviction can lead to deportation.
"So ICE is coming to get me?" Knight said, laughing.
Thursday's plea may have marked the end of a lengthy, confusing court battle for both Knight and the prosecution, but it brought no closure to Lillian Carter.
"I thought I would feel some relief. I don't," she said. "I feel just as sick and heartbroken as I did the first moment of learning of Terry's death." Source: LA Times