By: Todd Davis
Rapindustry.com
That's 'cause Steve never left!
Troop, an acronym for T.otal R.espect o.f O.ther P.eople, is a veteran R&B quintet hailing from Pasadena, California. Comprised of Steven Russell, Allen McNeil, John Harreld, Rodney Benford & Reggie Warren, the group has since gone on to release four chart-topping, number one singles on Billboard, and completed five studio albums; three of which have been certified gold, and one, 1989's Attitude, that reached platinum status.
Shortly after dropping their most recent offering, Mayday ['98], the collective amicably parted ways, opting to go on an undetermined, extended hiatus in order to pursue individual endeavors.
Front-man, Russell, who shares lead vocal duties with McNeil, checked in with Rap Industry Dot Com from the road, where Troop has been crossing the country doing various spot dates, while also prepping a brand new reunion opus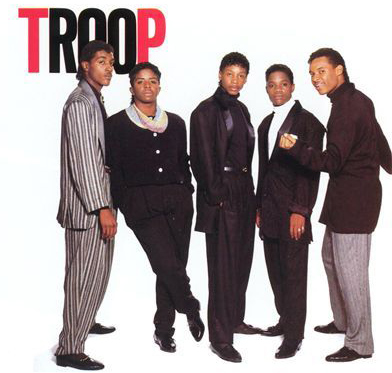 INTERVIEW:
What's up, Mr. Russell? So, for those who don't already know, what exactly have you been up to professionally since the release of that last Troop project, May Day, back in 1998? 
STEVEN RUSSELL: I've been writing and producing for a lot of other artists like; Chris Brown, Jordin Sparks, Jennifer Hudson, Charlie Wilson, Rich Girl, KeAnthony, (and) many more…
Why did you all, meaning Troop, take such a long break from music? 
STEVEN RUSSELL: Well, as for Troop, we took off because I personally needed time away from Troop to pursue my goals as a record producer.
For awhile you also had planned a solo career, but it seems as if that has been put on hold for a minute — How come? 
STEVEN RUSSELL: Well, I actually finished my solo album, but I'm currently working on my new group, Offich-ill, 3 young gents outta Chicago. They will be like a mixture of Troop and New Edition! And, my daughter, Teyonie Page! As well as finishing the Troop reunion album.
Will the group still consist of all the original members; Allen McNeil, John Harreld, Rodney Benford, & Reggie Warren? 
STEVEN RUSSELL: Yes.
Has the reunion record been titled yet?
STEVEN RUSSELL: Don't have one yet.

How do you feel that this new Troop release will measure up to previous group efforts?
STEVEN RUSSELL: Well, it will hold up to the tradition of classic songs, and really good sounding production. We will try and appeal to all.
So, are you still planning on releasing that solo album, too? 
STEVEN RUSSELL: Yes.

It's been titled Random, right?
STEVEN RUSSELL: Random is my new name as a producer.
What can you divulge or reveal about the Random release?
STEVEN RUSSELL: Well, it's simply reinvention — Time for something new.
Many people know Troop's back-story, but tell me yours — When did Steven Russell fall in love with music?
STEVEN RUSSELL: Well, my mother is the reason for me loving music the way I do. I wanted to be in a group since I thought I was a part of Switch and the Jackson 5. I started imitating Michael Jackson in the 7th grade, and that solidified my wanting to be a star. I went from that, to singing my own songs, and eventually was asked to be in this group called 5 of a Kind — The rest is history.

How then did you first hook up with, Allen, John, Rodney, & Reggie, and ultimately form Troop?

STEVEN RUSSELL: I used to pass Rodney in school all the time, and one day he told me to watch him and his group on, (the now defunct television talent show,) Putting on the Hits, and I saw the guys and thought they were dope. Anyway, a record producer saw the show and asked if they really sing, and Rodney's mom told him, "Yes." So, Rodney asked me if I was interested in being in the group, and I said, "Yes." Jon Jon joined a short time after that. I met Allen singing in the park in Altadena, California, and somehow he became the other lead singer!

For years you all were signed to Atlantic Records, but what eventually caused Troop to be dropped from the roster? 
STEVEN RUSSELL: Well, we were signed by Platinum/Gold Production [a production company], and eventually did a showcase for Sylvia Rhone at Atlantic. She loved us, and signed us. We didn't get dropped. We discovered some business things that didn't seem cool, so we decided to switch management to MC Hammer's brother, (and) that, in turn, was the downfall of Troop.
So, after the whole fiasco with Hammer's brother, Louis Burrell, of, then, Bust It Management, did you all "officially" break-up? 
STEVEN RUSSELL: Well, we didn't officially break up, but after a while I decided to officially stop giving all my songs to Troop, and start sending songs to other artists.
Who came up with the group's name anyway? 
STEVEN RUSSELL: We made up a dance called "The Troop" that caught on in Cali, so we went with that.
How have you all managed to last so long in music?
STEVEN RUSSELL: The key to my staying power is the ability to stay fresh as a writer. Great songs will never go outta style.
Now, I understand that you have a real unique, yet successful, side hustle, so to speak — Tell me about it… 
STEVEN RUSSELL: Yes, I raise and compete with roller pigeons. They are pigeons that do backward somersaults downward towards the ground — That's my heaven!
Very interesting! You also have your own recording imprint, Strange Motel, as well…
STEVEN RUSSELL: That's my production company. I plan to create some new and exciting artists, and become one of the primary labels of the day.

So, are the artists you talked about earlier the first two signings? 
STEVEN RUSSELL: Yes, Offich-ill & Teyonie Page.
What do you want your fans to know most about, not only you, but, all of your musical brothas in Troop as well?
STEVEN RUSSELL: That we are all god-fearing men, and we love life & our fans.

What's your biggest hobby outside of music? 
STEVEN RUSSELL: Flying pigeons!
Man, I should've already known that! So far, what has been your greatest career achievement to date?
;STEVEN RUSSELL: My latest work on Jordin Sparks' 'No Air.'
What are your future goals & plans in music? 
;STEVEN RUSSELL: (To become a) big time record exec.
What's next for Steven Russell? 
STEVEN RUSSELL: Finish the Troop record, and go on tour.
Allen McNeil also has a solo project in the works as well — Is this also planned for after the new group effort? 
STEVEN RUSSELL: Yes, he's in the studio as we speak!
And finally, since you have also been known for working with other artists — Anything coming up in terms of outside production work? 
STEVEN RUSSELL: A lot of different stuff, too much to name — But, expect a lot of hits.
Is there anyone in the business who you haven't worked with already, but would definitely like to in the near future?
STEVEN RUSSELL: Yes, Justin Timberlake, Michael Jackson, (and) Usher.