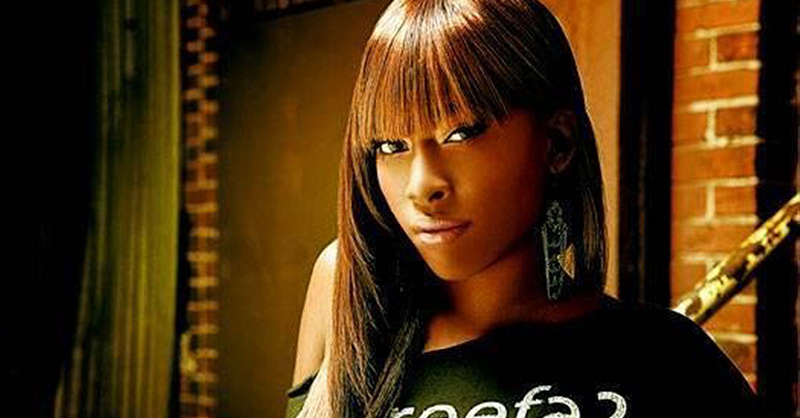 Shareefa Interview – The First Soul Woman Signed To Disturbing The Peace/Def Jam
In an age when everything from fashion to furniture reeks of prefabrication, it is rare to find a genuine realness even in soul music. As the one genre of music that should send shivers through ones body while still managing to touch your heart, much of today's R&B feels as though more thought has gone into the choreography than the songs. And then, there is Shareefa.
The first soul woman signed to Disturbing the Peace/Def Jam, this Newark, New Jersey native introduces her special realness on the debut disc Point of No Return. Recruiting studio vets Chucky Thompson, Salaam Remi (How Good Love Feels), Rodney Jerkins and newcomers the Justice League (Butterfly), the mature voiced twenty-three year old Shareefa has created something special.
"From the first time I stepped into the studio, it was my goal to try and make classic material, " says the singer. Indeed, with one listen to Shareefa ' s vocal styling and production, it is obvious that Point of No Return stands-up next to such stellar debuts that include What ' s the 411 (Mary J. Blige) and Faith (Faith Evans).
Raised between Brick City (Newark) and East Orange, young Shareefa was a fan of legendary singers from the time she was a child. "I can remember taping the tributes to Smokey Robinson and Gladys Knight that were on the Soul Train Awards," Shareefa says. "I would be rewinding them all the time, practicing those routines until I knew them by heart. In the same way Patti LaBelle could make the hair stand-up on my arms with her voice, I wanted to be able to do the same thing."
RAPINDUSTRY.COM: You're 22 but you're not a newjack, for those that don't know, you were running with Teddy Riley, before Ludacris right?
SHAREEFA: Yes, I was. I auditioned for a group he had called "Honey" at 16 years old, and eventually branched off and started working with him as a solo artist.
RAPINDUSTRY.COM: You have a very soulful sound, which is missing from R&B today, who influenced your sound?
SHAREEFA: I'm like an old soul. I remember '95 when everybody was dropping hits crazy, B.I.G, Mary J, Faith. The radio was bananas. Every song had emotion and meaning. That's why I grabbed Chucky Thompson, Saalam Remi, Teddy Riley,
to give me that sound on my album.
RAPINDUSTRY.COM: This is Rapindusty.com… so what rappers are u feeling currently?
SHAREEFA: Ludacris, is like #1 to me, his 16's and songs, he just keeps getting better, and um, Lil Wayne,,that boy be saying some shit…..oh, and 50 Cent….I'm real big 50 Cent fan.
RAPINDUSTRY.COM: I heard that, "Point of No Return", that's the album title, what's behind that?
SHAREEFA: Basically, everybody in life has a time where they feel as though, they gotta move forward, and take control of their life and that's how I felt when writing this album. So I felt it was an appropriate title.
RAPINDUSTRY.COM: "Need A Boss" is the single, now, have u found one?
SHAREEFA: Not yet, not yet…..(laughs)
RAPINDUSTRY.COM: Oh ok, cause Um, I am available,,,(laughs), Well, what do you look for in a man?
SHAREEFA: A go-getter. Someone who has my back, no matter what, and loves me for me.
RAPINDUSTRY.COM: What's the writing process like for you? I know you wrote a lot of your own material.
SHAREEFA: Yes. I did, and that's why I love my team !, Because they trusted me, like they got "it" the first time around…and supported my writing… (the process) is beat first, then concept, and whatever emotion that beat brings out of me.
RAPINDUSTRY.COM: Why do u think there are no beefs in r&b music?.. like u dont see, Bobby Valentino, bustin caps at Usher……are rappers' too catty?
SHAREEFA: (Laughs) I have no idea…..I think its it publicity, but who the hell knows, I think in r&b its just different, we trying to sell records. We don't have time for that shit..(laughs)
RAPINDUSTRY.COM: What's the craziest thing someone has done at a show to you?
SHAREEFA: I've been doing a lot of shows lately, but its been cool, nothing really crazy happened…..yet (laughs)
RAPINDUSTRY.COM: I hope u made sure ya contract was tight, don't let Chaka "Chingy" you. When does the album drop?
SHAREEFA: In stores October 24th…..(laughs)
RAPINDUSTRY.COM: I get VIP passes? For album release party right?
SHAREEFA: You know it, Flex! thanks for having me boop.