Snoop Dogg is breaking into the frozen dessert aisle with his playful new creation, Dr. Bombay Ice Cream. Together with Happi Co., Snoop Dogg launches Dr. Bombay Ice Cream, an ice cream experience that will help you free ya mind and rock your taste buds to the core!
Dr. Bombay hits freezer shelves nationwide, starting with a rollout at 3,500 Walmart stores on July 24th.
Customers can expect a unique, yet nostalgic experience with Dr. Bombay Ice Cream. As the brand's founder, Snoop Dogg carefully selected each of the seven launch flavors to curate an ice cream collection that allows them to find their own flava. Customers will soon be able to enjoy the rhythmic blend of Bonus Track Brownie, the creamy delight of Cocoa Cream Cookie Dream, or the refreshing zing of Iced Out Orange Cream. Other enticing flavors include Rollin' In the Dough, S'more Vibes, Syrupy Waffle Sundaze, and the vibrant Tropical Sherbet Swizzle.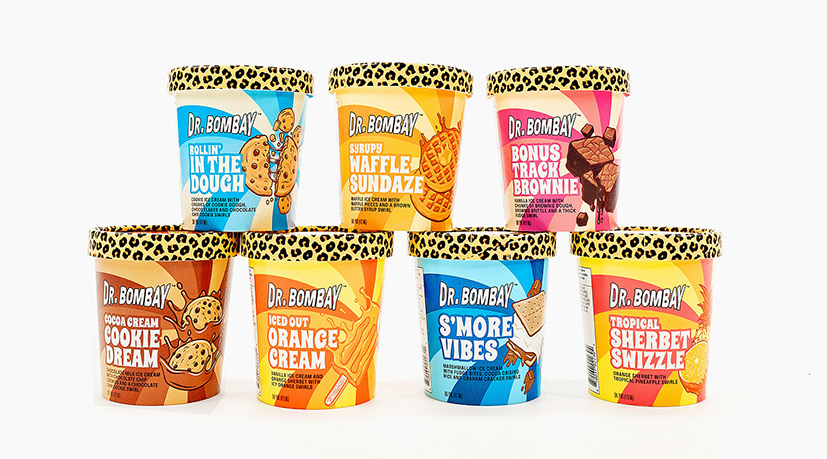 When asked about his newest venture, Snoop Dogg stated, "Ice cream is more than just a snack to me; it's a way to chill, relax, and get happy. That's exactly what I want Dr. Bombay Ice Cream to do—bring a smile to your face and ease your mind. I've poured my heart and soul into perfecting these first seven flavors, and I can't wait for my fans and the world to experience what I've created. Fans will also notice that my sidekick, Dr. Bombay is the name, face, and persona of this brand. That's because he's like a son to me and you always want your kids to be more successful than you are, that's my goal in building this lifestyle brand – starting with ice cream."
Originally an NFT from Snoop's Bored Ape Yacht Club collection, Dr. Bombay has transcended the digital realm to become a larger-than-life symbol of modern-day art and culture. With captivating performances, this iconic character has now set its sights on conquering freezer shelves. Dr. Bombay is Snoop Dogg's sidekick and embodies the essence of West Coast culture throughout Snoop's life, paying homage to the rebellious aesthetic of the '70s, the infectious slang of hip hop's rise in the '90s, and the unstoppable tech boom of the 2010s. Each flavor is a nostalgic tribute, intentionally crafted to leave you irresistibly yearning for the next bite. It's not just ice cream, it's a lifestyle.
Dr. Bombay ice cream is the first product line launching under the parent company Bosslady Foods, the visionary parent company behind Dr. Bombay Ice Cream, emerged from the groundbreaking joint venture between Snoop Dogg and Happi Co. With a commitment to providing snacks that allow fans to unwind with a pint of sweet serenity, Bosslady Foods embodies Snoop Dogg's unmatched expertise in flavor curation. Together, Bosslady Foods and Happi Co. support Dr. Bombay Ice Cream by infusing it with their expertise, ensuring a delightful and unparalleled experience that exceeds expectations.
Sam Rockwell, the CEO of Happi Co., shared his excitement about the partnership with Snoop Dogg: "As a company we're always looking to develop products and partner with personalities and brands that embody authenticity. When Snoop approached us with the idea of starting a new company with a focus on frozen treats, it became obvious that we share core values, which is a key ingredient for a strong partnership. As a fast and nimble CPG company, we have been working side by side with Snoop to create Dr. Bombay Ice Cream as true partners, using our experience in the frozen space to execute his vision. Snoop & Happi Co. share core values & brand vision and the products we're creating fit perfectly within our expertise – it's a recipe for success."