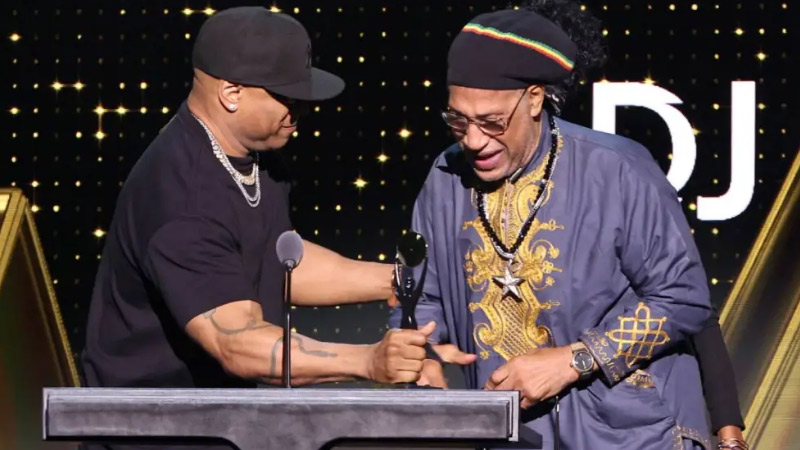 RECAP: Rock Hall of Fame's Class of 2023 – Hip Hop Highlights.
The Rock and Roll Hall of Fame 2023 went down Friday (Nov. 3) welcoming the Class of 2023 at Barclays Center in Brooklyn.
DJ Kool Herc, Missy Elliott, Chaka Khan, Kate Bush, Sheryl Crow, George Michael, Willie Nelson, Rage Against the Machine and The Spinners were all inducted along with Link Wray for musical influence; Al Kooper and Bernie Taupin for musical excellence; and Don Cornelius for the Ahmet Ertegun Award.
DJ Kool Herc
DJ Kool Herc was honored as "one of the greatest founders of hip-hop" when he received the Musical Influence Award at the Induction Ceremony.
The Godfather of hip hop was introduced by rapper LL Cool J who recounted the legend of the party that DJ Kool Herc played at in 1973 to help his sister Cindy Campbell raise money for back-to-school clothes, charging 25 cents for women to enter and 50 cents for men."
We don't know how much money Cindy managed to raise that day or what clothes she managed to buy but we know she changed the course of history, of music history," LL Cool J said. "That party has come to be known as the birthplace of hip-hop."
"It's a culture that changed my life obviously. It changed the lives of millions and millions of people," LL Cool J said.
"I got tears in my eyes," Kool Herc told the audience. He called out the people who were no longer alive, like James Brown and Harry Belafonte. He also credited his parents, Keith and Nettie Campbell, and he gave the mic to his sister, Cindy, to speak. "Do your thing," he told her.
Missy Elliott
Queen Latifah introduced Missy Elliott, who became the first female hip-hop artist in the rock hall, smashing the boundaries of fashion and style along the way. "Nothing sounded the same after Missy came onto the scene," Latifah said. "She is avant garde without even trying."
Missy Elliott then appeared onstage at Brooklyn's Barclays Center as if beamed from a spaceship and with smoke machines pumping, a kinetic light show and a massive digital screen working overtime, performed "Get Ur Freak On," "The Rain (Supa Dupa Fly)," "Work It," "Pass That Dutch" and "Lose Control."
"Missy will wear you out!" Queen Latifah joked after the set. "This woman goes hard for the art." Elliott, in a sparkly bucket hat, had her mother in attendance, the first time she saw her daughter perform live.
You can watch the edited broadcast of highlights on ABC on New Year's Day, Jan. 1, 2024, from 8-11 p.m. ET.