By: Todd Davis
Rapindustry.com
Multi-platinum selling Hip-Hop artist David Marvin Blake, p.k.a. DJ Quik, is already a living legend in his own right. On his latest endeavor, BlaQKout, a joint effort with Tha Dogg Pound's Kurupt, the Quiksta continues to impress. Recently, Rap Industry Dot Com briefly spoke with the Compton, California, based producer/emcee…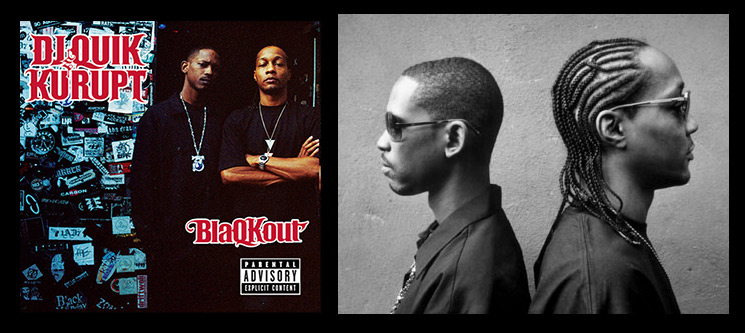 What prompted y'all to even come together for this collaborative LP?
I always wanted to do a(n) album with Kurupt. I'm a big fan of Kurupt's, and we finally found time to make this album.
So really, how did this whole BlaQKout situation even come to fruition?
Because I paid for it! *Quik chuckles*
Why the title BlaQKout? And, what does that name represent both to and for you all?
We had fun making this record, and we drank a lot! *More chuckles* We both love liquor, and you have to ask yourself, "Why not?"
Sonically, how does this record differ/compare to what the two of you are already known and loved for?
Represents us as artists with no outside producers, just me! We cut off our cell phones and locked ourselves in the studio, and made a great album I think. This album was totally opposite of what Quik/Kurupt albums normally sounds like.
The set's first release is the single "Hey Playa! (Moroccan Blues)" — Explain the concept of this particular track...

There was no concept. "Hey Playa" is between a ballad and a dance record.
Oh, okay! For "Whatcha Wan Do," you all brought out M.I.A. Left Coast femcee Yo-Yo — Whose idea was this?

Having Yo-Yo on the record was both of our ideas. Yo-Yo voice is so dope!
Since this project came out on your own Mad Science imprint, are there any other future releases scheduled to follow on the heels of this record? And, is there actually an artist roster already in place?
Yes, my (solo) album (which) is untitled. (And,) yes, I'm looking for artists with the "IT" factor. 
Quik, what ever happened with the whole (The) Fixxers' situation? Will that album ever see the light of day?
Well, AMG didn't want to be signed to a major label. (And,) NO!
Do you have any other outside production work coming up for you anytime soon? You really haven't been heard from much musically since Snoop's last LP, Ego Trippin'…

Yes, I'm working on (a) new project with NIKE and the N.B.A.! Watch for the commercial