Feature Article by: Lenny B.
Rapindustry.com
Mýa has spent the past decade developing her artistry, entertaining the world, and advocating causes close to her heart. In these 10 years Mýa has grown into a woman with a newfound strength that stems from changes, professionally and personally: Mýa is finally free to openly speak from her heart, soul and mind, "I feel that I've found my comfort zone." Mýa said. In the past couple years Mýa moved from LA back to her home in DC, built her own studio, reprioritized her vision and awakened a new sense of passion within herself, "I just knew that I had to get back to my roots and rediscover what had made me excited in the first place. I have all this creative energy and all these ideas, so I thought, 'let me go back to DC; build a studio, vibe, put a band together, get creative and do what I love to do.'" Mýa is a woman, liberated, focused and driven to continue to inspire, innovate and keep audiences on their feet, to her own signature inspired beat, for the next ten years… and all that jazz! 
As a philanthropist, Mya has a full plate of contribution– from her nonprofit organization dedicated to providing disadvantaged youth growth and opportunity to her recently announced involvement as spokeperson for North Shore Animal League America's Tour For Life 2008 and VH1's Save the Music Foundation's 3rd Annual Big Shopping Day.

ABOUT NORTH SHORE ANIMAL LEAGUE'S TOUR FOR LIFE
North Shore Animal League America isthe world's largest no-kill animal shelter. Tour For Life, which will stop in more than 20 U.S. cities to help save pets' lives across America, is the League's month-long national cooperative initiative with animal shelters promoting the importance and advantages of adopting shelter animals as a life-saving measure. Since its inception in 2001, Tour For Life, in partnership with Purina, has placed thousands of homeless animals with loving families.
"This lifesaving tour is truly close to my heart, as both a pet owner and animal lover," said Mýa, who serves as Tour For Life's national spokesperson
Tour For Life commences April 2nd as two of the League's Mobile Adoption Units travel two cross-country routes, simultaneously, stopping at scheduled destinations, helping over 100 shelters and rescue groups find homes for orphaned pets. All pets adopted during Tour For Life receive a free gift from Purina. Tour For Life ends with a "Grand Finale" event, hosted by Mýa at FAO Schwarz in New York City, on Saturday, April 26, featuring celebrities posing in the world-famous toy store windows with puppies. Tour For Life is sponsored by Nestlé Purina PetCare Company, Bayer Healthcare® LLC, Animal Health Division, and Fort Dodge Animal Health®.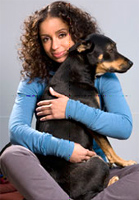 The Tour For Life schedule follows:

 


April 2 Haven Humane Society Redding, CA
April 2 Jacksonville Humane Society Jacksonville, FL
April 4 City of Sacramento Animal Care Services Sacramento, CA
April 6 City of LA Dept. of Animal Services Los Angeles, CA
April 9 Animal Humane Assoc. of New Mexico Albuquerque, NM
April 9 Southern Animal Foundation New Orleans, LA
April 12 Humane Society SPCA of Bexar County San Antonio, TX
April 12` Greater Birmingham Humane Society Birmingham, AL
April 13 Citizens For Animal Protection Houston, TX
April 13 Huntsville Animal Services Huntsville, AL
April 16 N. Little Rock Animal Shelter N. Little Rock, AR
April 16 Precious Friends Puppy Rescue Clarksville, TN
April 19 Metro Animal Control Nashville, TN
April 19 APA of Missouri St. Louis, MO
April 20 Indianapolis Animal Care and Control Indianapolis, IN
April 23 Rockingham-Harrisonburg SPCA Harrisonburg, VA
April 23 Humane Society of Madison County London, OH
April 26 Connecticut Area Rescue Event-CARE Brookfield, CT
April 26 FAO Schwarz New York City, NY
April 27 Wayward Paws Jamesville, NY
ABOUT VH1'S SAVE THE MUSIC FOUNDATION 3RD ANNUAL BIG SHOPPING DAY 
The VH1 Save The Music Foundation's Third Annual BIG Shopping Day Presented By Bakers will feature the most exclusive retailers and designers of high-end clothing, beauty products, accessories, and home items. Guests will shop till they drop and enjoy complimentary cocktails, hors d'oeuvres, family activities, live performances and receive a VH1 Big Shopping '08 gift bag stuffed full of amazing products.
All proceeds will benefit the VH1 Save The Music Foundation's work to restore instrumental music education in U.S. public schools.
Host Committee to include: Christina Applegate, Tova Bonem, Daisy Fuentes, Tim Gunn, Neil Patrick Harris, Jennifer Love Hewitt, Lenny Kravitz, Benji Madden, Joel Madden, Lara Morgenson, Mya, Sara Ramirez, Kelly Rowland, Alison Sweeney, Raven Symone?, Michael Urie, Chris Webber, Pete Wentz, Vanessa Williams, Venus Williams, and more. Clothing, beauty products, accessories, and home items will be provided by: Alex Woo, Andrew Christian, Bakers Footwear, Baskitwear, Brocade Home, Cammie Hill, Clandestine Industries (by Pete Wentz of Fall Out Boy), Denim Revival, Erica Courtney, Foley + Corinna, Friend or Foe, Groove Rock Gear, Guess, Invicta, Jennifer Oullette, Just One LA, Kiehl's Since 1851, Lipstick Prophets, Lisa Kline, Malgosia, Maternal America, Michael Stars, Nicolina Royale, Rock Your Religion, Sonya Dakar and Steve and Barry's featuring EleVen by Venus Williams and more. 

What a Body of Work!
In 2008 Grammy Award Winning Artist Mýa, is celebrating a decade in the entertainment industry as an internationally known, respected and loved R&B and pop singer, songwriter, producer, dancer/choreographer, actress, designer, model, activist and philanthropist.
Washington, DC native Mýa released her self titled, double platinum, debut album, Mýa, in 1998. The album launched the then 18 year old Mýa into the fabric of pop-culture, where she has remained ever since. Mýa featured the massively successful singles "It's All About Me", "Movin On", and "My First Night With You". In addition to her solo work, Mya was also a featured artist with Ol' Dirty Bastard on Pras' 1998 Grammy nominated hit, "Ghetto Supastar (That Is What You Are)", from the Bulworth soundtrack and "Take Me There" from The Rugrats Movie soundtrack, with Blackstreet and Ma$e.
In 2000, Mýa released her second album, Fear of Flying. Its first single, "The Best of Me", featured rapper Jadakiss and Jay-Z appeared on the single's hit remix "Best of Me-part 2." Following the massive success of the second single "Case of the Ex", Fear of Flying was re-released featuring the brand new smash, and third single, "Free." Just as Fear of Flying went platinum, Mýa recorded "Where the Dream Takes You" the theme song for Walt Disney's Atlantis: The Lost Empire.
In May 2001, Mýa collaborated with Christina Aguilera, Lil' Kim, P!nk and Missy Elliot on a remake of LaBelle's "Lady Marmalade", which is featured in Baz Luhrman's Moulin Rouge. The single sold 5.5 million copies and became the most successful airplay-only single in history. Mýa and company's version of "Lady Marmalade" won the Grammy Award for Best Pop Collaboration and went on to collect numerous awards including 2 MTV Video Music Awards for Video of the Year and Best Video from a Film. In 2003, Mýa released her third studio album, the critically acclaimed, Moodring, featuring the hit singles including "My Love Is Like Wo" and "Fallen." Moodring also featured "Everything or Nothing", the theme song for the 2004 video game James Bond 007: Everything or Nothing in which Mýa was featured as a Bond Girl, and "Real Compared to What" the 2003 Coca-Cola theme song, for whom Mýa was a spokesperson for at the time.
As an actress, Mýa appeared in films such as the Academy Award-winning musical film Chicago (2002) for which she won a Screen Actors Guild Award (ensemble), Dirty Dancing: Havana Nights (2004) and Cursed (2005), among others. Mýa will once again be gracing the silver screen in various feature films set for release throughout 2008, including "Cover."
As a philanthropist, Mýa continues to devote her time and resources to various causes. From 1998 to 2001, she became the spokesperson for Secret to Self Esteem. In 2005, Mýa founded TMATF: The Mya Arts & Tech Foundation, a nonprofit organization dedicated to providing disadvantaged youth growth and opportunity through arts & technology education, where she serves as both executive director and teacher. Mýa is also an advocate of breast cancer as her mother is an 10 year survivor. In 2006 & 2007 she collaborated with the Lifetime Television Network in the Stop Breast Cancer for Life campaign, recording "My Bra" a song sold on iTunes donating 100% of proceeds to breast cancer research. In 2007, Mýa was also the internationally featured artist in Heatherette's Fashion Show for LifeBall in Vienna, Austria to fight Global AIDS, hosted a fundraiser for Skool'd to aid homeless LGBT youth, and advocated gay rights by opening the Out 100 Awards.
In 2008 Mýa will release a series of eagerly anticipated brand new music….she is currently in the studio with world renowned producers of many different genres. Mýa also will be appearing in the national (RED) campaign for Dell + Microsoft, is the national spokesperson for the North Shore Animal League's 2008 Tour For Life, will serve as a National Co-Chair of HillBlazers, which is Senator Hillary Clinton's campaign youth outreach program, will act as a committee host for VH1's Save the Music, will be participating in Rock the Vote, and will be featured as the contributing celebrity editor for the premiere web-based glam and fashion magazine BeautyBlitz.com. 2008 will also mark Mýa's New York Broadway Debut in "Chicago" as vixen murderess, Velma Kelly, for a limited New York engagement May 12th- July 13th.