"Live music is bigger than ever, with global demand driving the industry to record levels. There's a more diverse pipeline of artists breaking from all corners of the world, and at the same time tours are going to more markets – particularly in Latin America and Asia. This was our strongest second quarter ever, with 2023 on pace to be a record year, and early indicators for 2024 giving us confidence in continued growth." – Michael Rapino, President and CEO, Live Nation Entertainment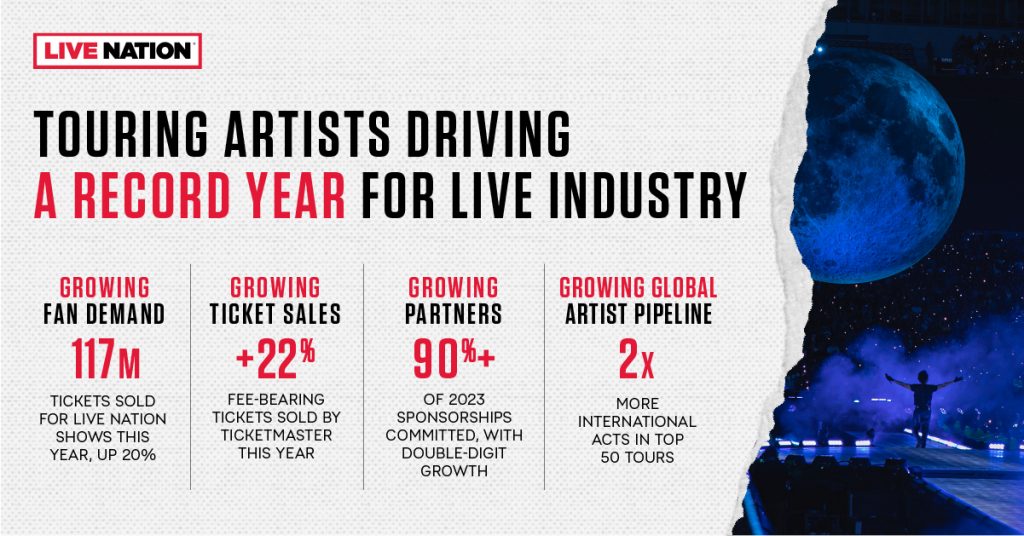 2Q23 FINANCIAL OVERVIEW
(vs 2Q22, reported FX)
Revenue Up 27% to $5.6 Billion
Operating Income Up 21% to $386 Million
AOI Up 23% to $590 Million
Operating Cash Flow of $491 Million
Free Cash Flow – Adjusted of $407 Million, Converting 69% of AOI
EPS Up 55% to $1.02
View how these results compare to past quarters in the 2Q23 Trended Results Grid: https://investors.livenationentertainment.com/financial-information/financial-results
OUTLOOK: Record 2023 Ahead and Continued Growth into 2024
(based on leading indicators through mid-July)
Record number of fans expected: Over 117 million tickets sold year-to-date for Live Nation shows this year, up 20% year-over-year
Record Ticketmaster sales expected: 151 million reported fee-bearing tickets sold year-to-date, up 22% year-over-year; on track to manage 600 million tickets including selling 300 million fee-bearing tickets this year
Live creates unique advertising opportunity: Sponsorship pacing to double-digit operating income and AOI growth
Even more events ahead: $4.3 billion in event-related deferred revenue, up 37% vs 2Q22, setting up double-digit attendance growth in Q3
Growing global artist pipeline: International acts doubled representation in top 50 tours over last five years, more acts touring globally and visiting 42% more countries
Early 2024 pipeline up for arena/amphitheater/stadium shows confirmed and with offers in
Record second quarter for Concerts (vs 2Q22):
Revenue up 29% to $4.6 billion
AOI up 37% to $168 million
Full-year margin expansion expected relative to 2022
Attendance growth globally, led by international markets (vs 2Q22):
Stadiums: up 28% to 8.0 million fans, led by Europe and Asia Pacific
Arenas: up 19% to 10.7 million fans, largely from Canada, Asia Pacific and Latin America
Festivals: up 14% to 4.5 million fans, driven by global demand across all our markets
YTD overall fan growth of 25% with International markets up 46% and North America up 8%
Number of tickets sold per show higher with on-sales and close periods both performing well
On track to invest over $12 billion in putting on artists' shows in 2023, up 30% from 2022
Growing Venue Nation:
Expect double-digit fan count growth at operated venues in 2023 relative to 50 million fans in 2022
Per-fan profitability increases double-digits, fueled by growth in sponsorship and on-site spending across our operated venues including amphitheaters, festivals, and theaters & clubs
Ancillary per fan revenue at amphitheaters up double-digits to over $40
With 400 venues and festivals globally, pipeline continues to grow with key developments in Asia including South Korea and Singapore, Latin America, and Europe
Fan demand and client wins drive records results (vs 2Q22):
Revenue up 23% to $709 million
AOI up 27% to $293 million
14 million net new clients tickets added YTD, with half coming from International markets
Full-year margins expected to remain in the high 30s
Sale of concert tickets leading ticketing growth (vs 2Q22):
Total fee-bearing GTV up 25% to $8.7 billion with North America up 22% and International up 34%; over 80% of the growth driven by global concert ticket sales
Ticket volume YTD up double-digits for both primary and secondary tickets
Average secondary ticket price roughly 2x primary, showing the extent to which tickets remain priced below market value
Growing sponsorships reflect attractiveness of fan base and onsite connection (vs 2Q22):
Revenue up 15% to $303 million, with on-site up 16% and online up 9%
AOI up 14% to $203 million
Full-year margins expected to remain in the low 60s
Over 90% of 2023 planned sponsorship committed:
Top clients with multi-million dollar, multi-year commitments, made up of over 100 partners, accounted for ~85% of our revenue
New partners include Diageo and Chateau St. Michelle; renewed multi-year deals with Salesforce and Gildan
– – – – – – – – –
ADDITIONAL FINANCIAL INFORMATION:
Capital expenditures of $158 million YTD, driven by investments in on-site venue enhancement, expansion of our venue portfolio, and continued development of ticketing products for both enterprises and fans. 2023 capital expenditures forecast remains at $450 million, two-thirds on revenue-generating projects
Below-the-line impact to 2023 EPS – accretion expected to be approximately 60% higher than 2022, largely driven by OCESA performance
Foreign exchange not expected to materially impact 2023 revenue, operating income or AOI
For the first six months of 2023, our fully diluted share count was 230.5m, flat compared to the same period in 2022
Balance sheet and liquidity remains strong:
2Q23 ended with $7.1 billion in cash and cash equivalents, including $1.4 billion in ticketing client cash and $2.3 billion in free cash
Including $0.6 billion of available debt capacity, there is $2.9 billion of liquidity for reinvestments and future growth opportunities, including a robust global M&A pipeline
2Q23 net leverage is 2.6x
Approximately 87% of debt is at a fixed rate, with an average cost of debt of 4.7%
Projected Free Cash Flow – Adjusted: Percentage conversion for the full-year remains in the low 60s
Notice Regarding Financial Statements
The company has provided certain financial statements at the end of this press release for reference.  These financial statements should be read in conjunction with the full financial statements, and the notes thereto, set forth in the company's Quarterly Report on Form 10-Q filed with the Securities and Exchange Commission today and available on the SEC's website at sec.gov.