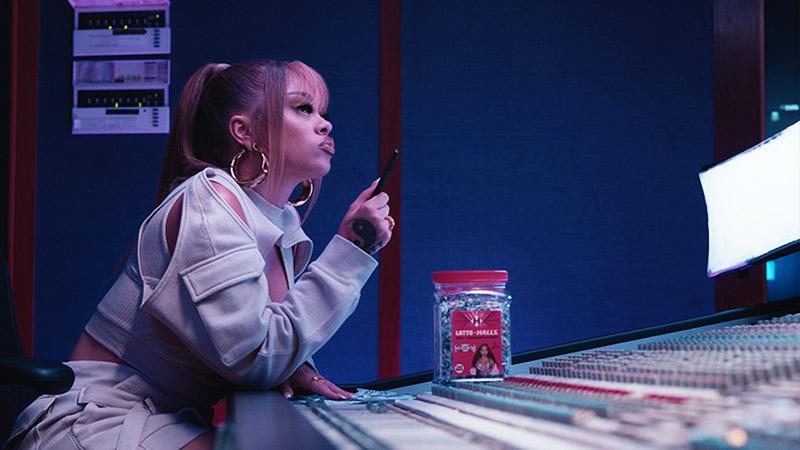 HALLS Partners with Atlanta Rapper Latto to Launch 'Rapper Wrote This Wrapper'.
The HALLS brand is bringing some 'Big Energy' to this year's cold, cough, and flu season by teaming up with Grammy nominated Atlanta rapper Latto to refresh the 'pep talks' featured on HALLS cough drop wrappers.
The limited-edition wrappers will feature a variety of 16 different pep talks inspired by Latto's hit songs, and even some new things in the works, and offer words of encouragement like "keep your crown on" and "belief in relief" when you need them most.
"The HALLS brand is excited to see this partnership come to life and for people to check out the new limited-edition packaging," said Alex Derrig, HALLS Brand Manager. "As someone who knows the importance of having reliable sore throat relief, and who offered a modern voice to the brand's iconic pep talks, there was no better partner for this campaign than Latto."
"Working with HALLS has been an incredible experience," said Latto. "HALLS has always been my go-to when my throat is irritated and the pep talks on the wrappers provide lighthearted emotional relief when I'm not feeling my best. Fans are always on the lookout for what lyrics I'm working on and what's coming next for me – which is why I can't wait for people to check out my new lines on the limited-edition wrappers, and I hope they can help make someone's day a little brighter."
About Latto:
Two-time Grammy nominated, breakout Queen of Da Souf rapper Latto has been making a name for herself since she was eight years old and hasn't stopped since. The Rap Game Season One winner has continually released music and in 2020, it landed the ATL-based artist a deal with RCA Records. In the past three years, the 24-year-old released her project Queen of Da Souf, her album 777 and loose singles while continuing to elevate and garner accolade after accolade. When Latto released her critically acclaimed album 777 in March 2022 it debuted in the top 20 at #15 on the Billboard Hot 200 chart and top 10 at #6 on the Billboard Top Rap Albums chart in addition to embarking on her first headlining tour, the 777 Tour. Accolades she's earned over the years include the following – she's the first female rapper to ever have a #1 record at Pop, Rhythm and Urban Radio with the same single ("Big Energy"), the first solo female rapper from Atlanta to receive an RIAA-certification (both Gold and Platinum) and amassed her first top five hit on the Billboard Hot 100 with RIAA-certified 3x Platinum single "Big Energy" (peak #3). Following her 777 album, she also released multiple singles – "PUSSY," a reply to the overturning of Roe v. Wade, her fan-requested "Another Nasty Song" and turn-up anthem "FTCU" featuring GloRilla & Gangsta Boo. Latto's performed on various late night television shows and televised award shows including the 2022 Billboard Music Awards, The Tonight Show Starring Jimmy Fallon, Late Night with Seth Meyers, 2022 BET Awards and more. Latto was also a presenter at the 2022 AMAs where she was three-time nominee and the 2022 VMAs where she was a four-time nominee. She wrapped up being a guest on Lizzo's Special Tour this past Spring and performed her RIAA-Gold hit "Put It On Da Floor Again" at her incredible Coachella debut – the remix features Cardi B. Latto was honored with the "Breakthrough Artist" Award for 2022 Variety Hitmakers and the "Powerhouse Award" at Billboard's 2023 Women in Music Awards. She's recently collaborated with BTS star Jung Kook on "Seven" (went #1 on Billboard Hot 100 chart and was #1 on Billboard's Global chart for six weeks straight) and Davido on an "Unavailable (Latto Remix)." Mostly recently, Latto won an MTV VMA award for "Song of the Summer" with her Jung Kook collaboration. The 2022 BET & People's Choice Awards "Best New Artist" and 2023 BET "Best Female Hip-Hop Artist" winner is embracing this new phase in her career – manifesting good fortune and hitting bar after bar with witty, captivating lyrics, but staying true to herself and her Clayton County roots. She's using her platform to support her native town community and build awareness to support women's reproductive rights. Big Latto's 'got that real big energy' and shows no signs of stopping.