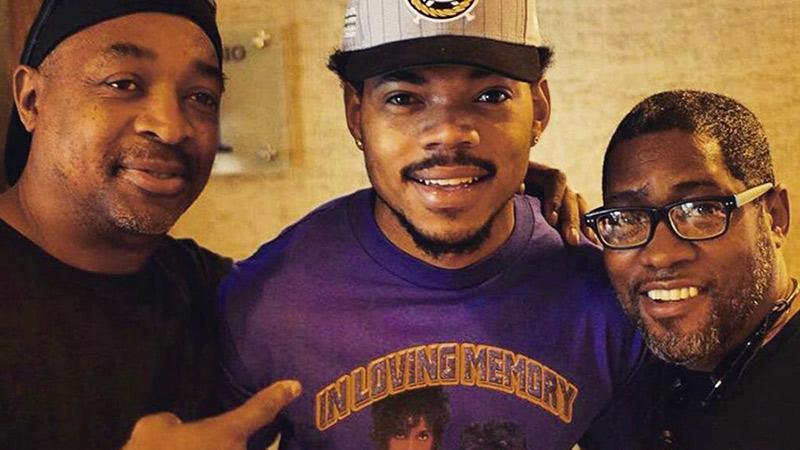 Daddy-O Of Stetsasonic And Chuck D Unite For STOP Self Destruction Movement.
Over 30 years since the release of "Self Destruction," a groundbreaking Hip Hop track that brought together some of the genre's biggest names to address issues of violence and self-destruction in black communities, the song's original co-collaborators, Daddy-O of Stetsasonic and Chuck D of Public Enemy are back with a new project and movement called Stop Self Destruction in partnership with the music label Opposition.
Watch clips of a conversation held by Daddy-O and Chuck D about Stop Self Destruction from a 2021 Opposition panel at SXSW:
Daddy-O's advice to the youth

View this post on Instagram
Chuck D on embracing "young energy"
View this post on Instagram
This time, the long-time friends are coming together to address the issues that persist in Hip Hop and have even worsened in the intervening years. As Daddy-O explains, "'The original "Self Destruction" project was the catalyst of a murder. At that time, we thought that if we didn't address the ills of our community, the end of the world as we knew it would be near, now things have gotten even worse; it's unimaginable what the new generation goes through from fentanyl drug overdoses to suicide to over-the-top police brutality, people need help more than ever,"
With perfect timing, Hip Hop is celebrating its 50th Anniversary this year. So, what better time to reassess where we are as a culture than with Stop Self Destruction, a movement using music to highlight the new generation of rappers from all regions across the world telling stories about self-destruction their way?
The original movement in 1989 consisted of one song with rappers hailing from New York. The new movement will encompass rappers from around the world and legends in Hip Hop that will lend their story-telling ability to ongoing song releases and cultural videos/documentaries.
We've witnessed a nostalgic performance celebrating the genre's anniversary at the 65th Grammy Awards just earlier this month with appearances from LL Cool J, Missy Elliott, DJ Jazzy Jeff, Melle Mel, and many more. Now it's time to dig deep into the roots and state of Hip Hop.
Despite its monumental cultural impact and global reach, there has been a surprising lack of discussion about the status of Hip Hop. Hip Hop has become the most consumed genre of music, with its influence felt across various industries, from fashion to film. However, there has been a noticeable absence of attention in its current state. In the last year, Hip Hop has lost an alarming number of its artists to violence. Although violence is often broadcasted as the genre's biggest enemy, issues such as drug abuse, suicide, and many others are just as prevalent of a problem as the former mentioned.
"Hip Hop has always helped each generation find its voice. Right now, there are more issues to speak about than ever before but there are also more distractions. It's our responsibility, as an artist first label, to ensure that artists who speak about what's really going on in their communities are getting the proper amount of attention and support. These artists will shape the voice of a generation. " Shane Gill, Head of Opposition
Stop Self Destruction seeks to spark these necessary conversations and bring together people from all walks of life and generations, to work together towards a common goal: the betterment of our communities. With over three decades of experience in the music industry and at the forefront of Hip Hop's birth, Daddy-O and Chuck D are well positioned to take the lead in this effort, using their platforms to amplify the voices of those who are often silenced.
Music can be a powerful tool for social change, and both pioneers know that Stop Self Destruction can help inspire people to come together and work towards a better future for all.
ABOUT STOP SELF DESTRUCTION
The Stop Self Destruction Movement is a collective of artists, producers, and music industry veterans with the shared goal of bringing unity and peace to hip-hop and communities. We're taking the original 1989 movement into our hands and building it independently. As founder Daddy-O often says, "If not us, then who?" Using music as the driving force, Stop Self Destruction works directly with charities such as Real Hip Hop Cares, amongst others, to bring communities together.
ABOUT DADDY-O
Daddy-O is a renowned artist and living Hip Hop legend who was at the center of New York rap during its heyday. As the founder of the original socially conscious band Stetsasonic, Daddy-O has been a true Hip Hop historian and music technologist. He has produced and remixed songs for an impressive list of musical acts such as Mary J. Blige, Biggie Smalls, Queen Latifah, and Red Hot Chili Peppers. Daddy-O has also worked as a senior Director of A&R for MCA Records, helped to produce and discover talent for Motown Records like Lil Kim and Foxy Brown. In 2016, Daddy-O and his partner Lion Lindwedel formed their co-owned label, Odad Truth Records, and he has released several solo albums on the OTR Label with digital distribution on Chuck D's distribution company SpitDigital. Daddy-O is a versatile artist who has made significant contributions to Hip Hop culture, and his music continues to inspire and influence the industry today.