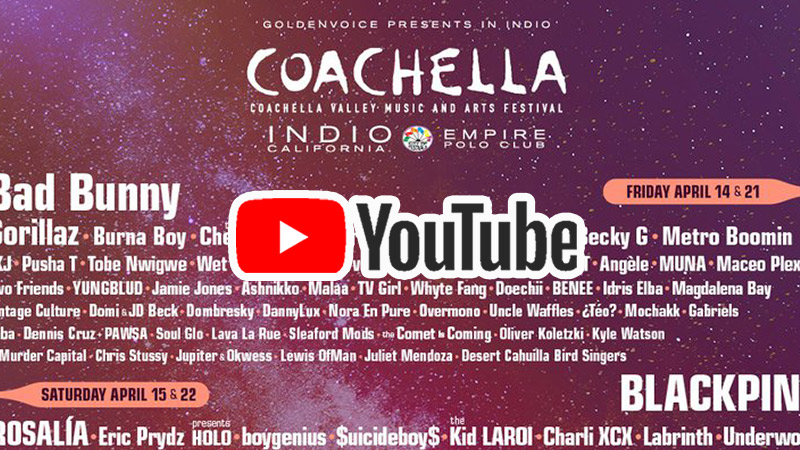 Coachella To Continue FREE Streaming on YouTube through 2026
YouTube and Goldenvoice have announced a multi-year renewal of exclusive Coachella livestream and content partnership, bringing the festival to millions of fans worldwide through 2026.
April 2023 will mark the 11th year that music fans all over the world can tune into Coachella only on YouTube, and the renewal through 2026 is a testament to the ever growing global audience for the iconic music festival.
"It's an absolute honor to continue our partnership with Goldenvoice to bring the magic of Coachella to music fans around the world," said Lyor Cohen, Global Head of Music at YouTube. "Our shared passion for innovation and connecting artists with their fans through multiple formats is the foundation of this decade-plus partnership. Coachella reminds us of what's fun and special about YouTube and every year leaves us more inspired for the next."
"Our partnership with YouTube brings Coachella to everyone around the world," says Paul Tollett, Goldenvoice President. "The 2023 lineup sees performers from Brazil, France, Iceland, India, Jamaica, Nigeria, Puerto Rico, South Korea, Spain, and beyond, and bringing international fans closer to their hometown artists is important to our team."
Year after year, Goldenvoice, together with the diverse set of genre-spanning global artists, have created some of today's most iconic live performances. And for over a decade now, YouTube has been there to bring these legendary music moments from Coachella to fans around the world to experience in real-time and relive on-demand.
The highly anticipated return of Coachella in 2022 brought electrifying sets from Anitta, BROCKHAMPTON, Billie Eilish, Doja Cat, Grupo Firme, Harry Styles, Karol G, Megan Thee Stallion, 88 Rising, an augmented reality set from Flume and so much more. Years past have brought once in a lifetime performances from artists like Beyonce, whose 2018 return broke records, and Kendrick Lamar's 2017 debut of Damn, as well as surprise collaborations from the likes of Swedish House Mafia x The Weeknd, Calvin Harris and Rihanna, Drake and Madonna – and one moment that defines the magic that can happen at Coachella – Dr. Dre and Snoop Dogg along with the once-in-a-lifetime Tupac hologram. There have been reunions from some of the world's greatest bands like AC/DC, Blur, Guns N' Roses, and Stone Roses and many more groundbreaking performances from artists like Arcade Fire, Bad Bunny, Childish Gambino, Florence + the Machine, M83, Kendrick Lamar, Lady Gaga, Lizzo, Outkast, Radiohead and Tiesto, with several other music and culture defining moments over the years. S: YouTube