By: Todd Davis
Rapindustry.com
Dirty South legend, Michael Barnett, most famously known as Big Mike, was born and bred in New Orleans, Louisiana. Having gotten started alongside Houston, Texas, prodigal son, Mr. 3-2, in the short lived rap duo, Convicts, Mike rose to prominence first as a soloist, and then, again, after joining forces with both Scarface and Bushwick Bill in a 1993 incarnation of their Geto Boys' franchise
" A friend of mine at the time, Tony Draper, introduced me to the Rap-A-Lot camp. I only recorded once as a "GETO BOY," because the attention that I was receiving from the fans didn't fare real well with the other members of the group. Maybe they were afraid of the competition aspect that they had to deal with. "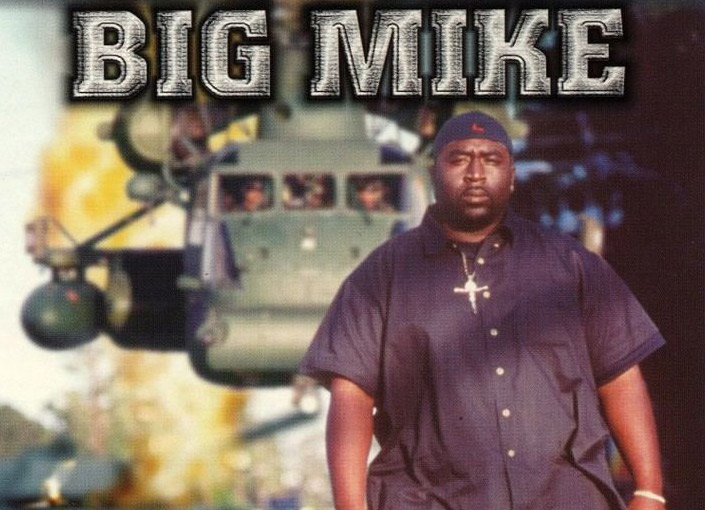 INTERVIEW:
Welcome back! So, where have you been hiding out Big Mike?

I WAS ON AN IRON VACATION! I'm in the studio at the moment working on my new project BIG MIKE RIDAH MUSIC Volume 1. 
That's the reason you've remained absent from music for the past three plus years? 

Like I mentioned, I was away doing time. 
Tell me about your new project, BIG MIKE RIDAH MUSIC Volume 1…

The new project is nothing short of a classic! 
What's the concept behind titling the record this?
BIG MIKE RIDAH MUSIC Volume 1 represents a new chapter in my life and for my music. 
What exactly can be expected from your brand new solo effort?
Besides hot features from Rick Ross, Chamillionaire, and B.G., it's really all about this new era that I wish to usher in. One has to cop the CD to indulge totally in what the project has to offer. Please believe, "It's a definite classic!" 
How would you say RIDAH MUSIC Volume 1 measures up to other Big Mike releases?
It embodies that same energy that my earlier works did, but at the same time fans should look out for the growth aspect. 
Let's rewind a little — How did it first begin for "The Peter Man?" 
I was born into a family of musicians and all around music lovers. It was only right that I took my place in music, and Hip-Hop was the arena that chose me. 

So, it was pretty much inevitable that you'd eventually make a career out of this?

At age 15 I knew that I would write, produce and perform music. 
Initially, how did you come together with Mr. 3-2, and later form the Convicts? And, what ultimately caused you all to disband?
We met through the label, and the desire to perform solo was what caused us to put a freeze on the CONVICTS. 
As a group, you all were briefly signed to Death Row Records, but the Convicts' debut was permanently shelved — How come?
Wish I had that answer! 
You then wound up over at Rap-A-Lot Records where you eventually became a member of the Geto Boys, joining them on their '93 opus Till Death Do Us Part — Since the chemistry seemed to work so well, why was it just for that one album?

A friend of mine at the time, Tony Draper, introduced me to the Rap-A-Lot camp. I only recorded once as a "GETO BOY," because the attention that I was receiving from the fans didn't fare real well with the other members of the group. Maybe they were afraid of the competition aspect that they had to deal with. 

How do you categorize what you do on the M-I-C?
It's a combination of the streets, fun, reality, imagination, spirituality and social content. 
You seem like a very humble man — What do you think it is that keeps you so well grounded?
Keeping GOD first, and being able to step back and not let the game consume me. 
I hear you're also a mean cook!
I love to cook, and look forward to opening a restaurant of my own. 
On a more serious note, what do you think of today's Hip-Hop music?
As long as we are making some form of progress and growth, I'm happy! 
How are you dealing with the illegal downloading aspect in regards to the whole business side of music?

People will always find a way to get what they want, it's the GAME! 
Sum up Big Mike using only one word?
I leave that up to the people, and pray that it's positive! 

What are your future goals and plans in entertainment?
(Just) being an inspiration to many. 
What has been your greatest accomplishment to date?
Being recognized as one of the best to ever do it! 
What's next for you, Big Mike? 
Thinking up the next master plan! 
Has the first single and/or video been selected yet? New, long overdue, Big Mike album scheduled for release when?
When the mix is complete, the single will be decided on. BIG MIKE RIDAH MUSIC Volume 1, online and in stores (soon)! 
Are you planning to tour? 
Yes, once the project is released. 
What does a Big Mike show consist of?
A GOOD ASS TIME! 

Do you remain in touch with Mr. 3-2? If so, is there any chance of a Convicts' reunion?
We talk every once in a while, and there may be a chance that we record again before it's over. 

That'd be real hot! Also, do you think another Geto Boys' record, with you on board of course, is likely? I don't see why it can't be you, Face, Willie D and Bushwick, that'd be one serious album!
Who knows?! 
Is there anything you'd like to leave our readers with? 
GOD BLESS! And, check for me on myspace.com/bigmikebcd for information concerning my new material and where to get it