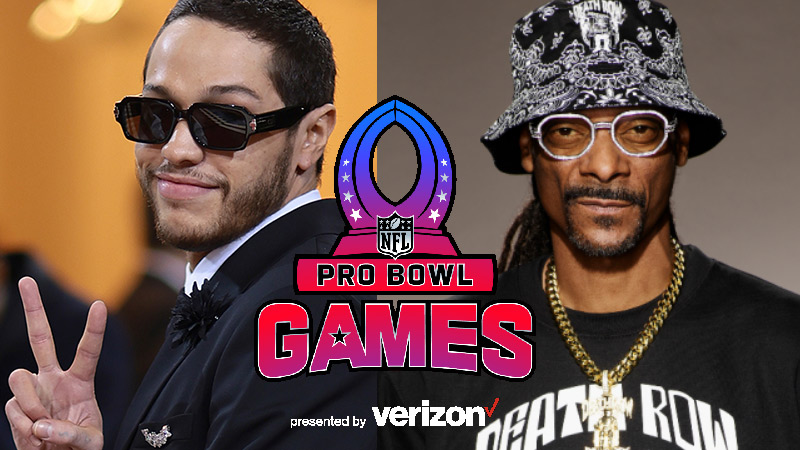 Snoop Dogg, Pete Davidson Named AFC, NFC Captains for 2023 Pro Bowl
Pete Davidson (NFC) and Snoop Dogg (AFC) have officially been named team captains of the 2023 Pro Bowl.
"I'm comin' back to the NFL field, but this time, instead of performing, I'm going head-to-head with Pete and competing for the title of The Pro Bowl Games Champion," the "Drop It Like It's Hot" crooner and performer at last year's halftime show told PEOPLE. "The competition is going to go off, but we all know that Peyton and our AFC squad are gonna do some big things. We'll end up on that podium."
Davidson, meanwhile, explains that he is taking part in the annual sporting event with family in mind. "I'm doing this to impress my Uncle Mike," the Saturday Night Live alum and New York Giants — and Eli Manning — fan says.
The 2023 Pro Bowl Games will begin airing live on Thursday, Feb. 2, when players voted to the Pro Bowl will compete in eight epic skills challenges.
Players will continue competing in skills challenges and take part in a non-contact flag football game the following Sunday, Feb. 5.
The Allegiant Stadium in Paradise, Nevada, will host the Pro Bowl for the second consecutive season, and will feature players from each conference, including Patrick Mahomes, Josh Allen, Joe Burrow, Tyreek Hill, Davante Adams and Travis Kelce, among others, for the AFC roster.
The NFC roster, meanwhile, will feature names such as Jalen Hurts, Geno Smith, Kirk Cousins, A.J. Brown and Jason Kelce, to name a few — unless players from either conference make the Super Bowl on Feb. 12.
The 2023 Pro Bowl Games will kick off live on Feb. 2 at 7:00 pm. EST on ESPN.