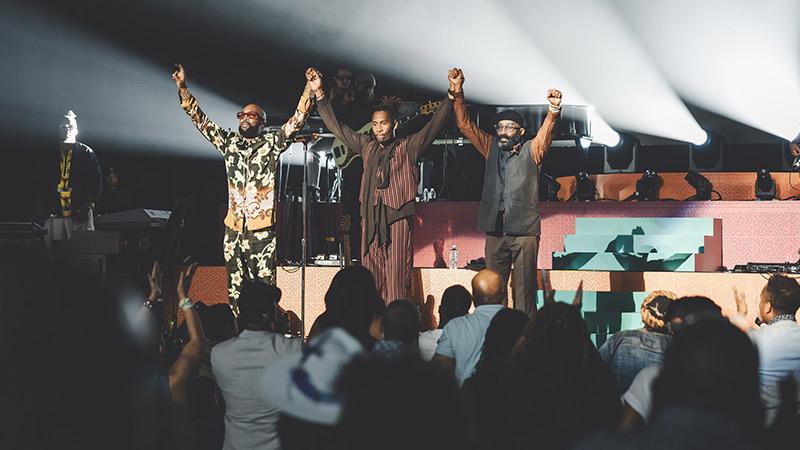 Raphael Saadiq And Tony! Toni! Toné! Sell out Concert – 1st Time Hitting Stage Together in 25 Years!
Raphael Saadiq and Tony! Toni! Toné! brought a sold-out show to Charlotte, NC on September 22, and it was a night to remember. From the very beginning, it felt like a journey into rhythm and blues where live instrumentation and soul-wrenching singing evoked the feeling of the ancestors.
The show was divided into four acts, and fans got their money's worth from start to finish. Act one ignited the experience in the packed house when "Little Walter" played, paying homage to a movement of the people and sounds of The Chambers Brother's "Wade in the Water" which was introduced to Raphael by Sly and the Family Stone.
Act two was all about love, with the crowd singing along to "Whatever You Want" while slow-dancing in the aisles. Storytelling interludes added depth to the performance, and Saadiq took a moment to reflect on their 25-year time away from the stage as a collective.
Act three saw Raphael Saadiq performing some of his greatest solo hits, including tracks from Lucy Pearl, and closing with the title song of the tour, "Just Me and You," evoking another moment of romance from the crowd.
Tony! Toni! Toné! started act four with "Anniversary," leaving the audience begging for more. Of course, they couldn't resist giving the fans what they wanted, ending the night on a high note with "Feels Good." The night was a rousing and heavenly experience.
Photo Credit: David "Odiwams" Wright
___________________________________
REMAINING TOUR DATES
Sun September 24 – Washington, DC – The Theater at MGM National Harbor
Mon September 25 – Washington, DC – The Theater at MGM National Harbor
Tue September 26 – Baltimore, MD – The Lyric
Thu September 28 – Philadelphia, PA – The Met
Sat September 30 – New York, NY – Radio City Music Hall
Sun October 1 – Durham, NC – Durham Performing Arts Center
Thu October 5 – Boston, MA – Orpheum Theatre
Sun October 8 – Cleveland, OH – State Theatre
Tue October 10 – Louisville, KY – Louisville Palace
Wed October 11 – Nashville, TN – Ryman Auditorium
Thu October 12 – Chicago, IL – Chicago Theatre
Fri October 13 – Detroit, MI – Fox Theatre
Sun October 15 – Birmingham, AL – BJCC Concert Hall
Thu October 19 – Greensboro, NC – Steven Tanger Center for the Performing Arts
Fri October 20 – Columbia, SC – The Township Auditorium
Sat October 21 – Jacksonville, FL – Moran Theater
Sun October 22 – Atlanta, GA – Fox Theatre
Thu October 26 – Memphis, TN – Orpheum Theatre
Fri October 27 – New Orleans, LA – Orpheum Theatre
Sat October 28 – Dallas, TX – Music Hall at Fair Park
Sun October 29 – Sugar Land, TX – Smart Financial Centre at Sugar Land
Fri November 10 – Las Vegas, NV – Pearl Concert Theater at Palms Casino Resort
Sat November 11 – Los Angeles, CA – YouTube Theater
Tue November 14 – Oakland, CA – Paramount Theatre
Wed November 15 – Oakland, CA – Paramount Theatre
Fri November 17 – San Francisco, CA – The Masonic
About Raphael Saadiq
For over 30 years, multi-instrumentalist, musician, songwriter, and producer Raphael Saadiq has influenced the ever-shifting landscape of pop/R&B music. Saadiq's approach is shaped by his deep musicality and uncanny creative vision. His timeless fingerprint can be felt across his solo work, an impressive array of collaborations with the likes of Beyoncé, Solange Knowles, John Legend, Brent Faiyaz, and Mary J. Blige, and his trail-blazing time in the beloved R&B band Tony! Toni! Toné! Hailed for his effortless blend of classic flair and groundbreaking sensibilities, Saadiq prods at the rigidity of music to craft profoundly moving, kaleidoscopic sonic experiences. Saadiq's influence is palpable in film and TV, earning him multiple award wins and nominations. Movies Mudbound (2018) and The United States vs. Billie Holiday (2021) both feature Saadiq's songs, while his scoring and music supervision work can be heard in Insecure (HBO), Lovecraft Country (HBO), Genius: Aretha (NatGeo), Underground (WGN) and 61St Street (AMC). Saadiq also serves as the executive music producer on the critically acclaimed Disney animated series Marvel's Moon Girl and the Devil Dinosaur.
About Tony! Toni! Toné!
Platinum-selling R&B super-band Tony! Toni! Toné! formed out of Oakland, CA, a city ripe for producing the best of soul and funk musical interpolation. The group's 1986 debut offering Who? immediately crossed the group over and lived on Billboard's "Top Pop Albums" chart for forty-four weeks peaking at #69 in the Top 100. The platinum-selling album spawned the #1 R&B hit "Little Walter," and the next three singles, "Born Not to Know," "Baby Doll," and "For the Love of You," were all Top 10 R&B singles. The trio self-produced their 1990 sophomore offering of The Revival, also platinum-selling, which bested their debut by charting for sixty-six weeks on the "Top Pop Albums" chart and peaking at #34. The album spawned several #1 R&B hits with "It Never Rains (In Southern California)," "Feels Good," "The Blues," and "Whatever You Want," all topping the R&B charts. "Feels Good" was the group's first single to breach the Top 10 of the Billboard "Hot 100." The group released Sons of Soul in 1992 and their final album House of Music, in 1996.