By: Todd Davis
rapindusty.com
Queens, New York, native, Nicki Minaj, just may be what the industry desperately needs. With the lengthy absence of any prominent female rap-stresses, it's about time that the ladies finally get their just due again. To make a long story short and a short story shorter, Fendi, CEO of Brooklyn label Dirty Money Records, sought out the talented newcomer after hearing a few hot tracks that she featured on her My Space page. Shortly thereafter, Fendi enlisted Nicki for The Come Up DVD Volume 11, also known as The Carter Edition. Once Lil' Wayne peeped out Nicki's mad skills, he immediately extended the invitation to make Ms. Minaj the female face of his Young Money imprint…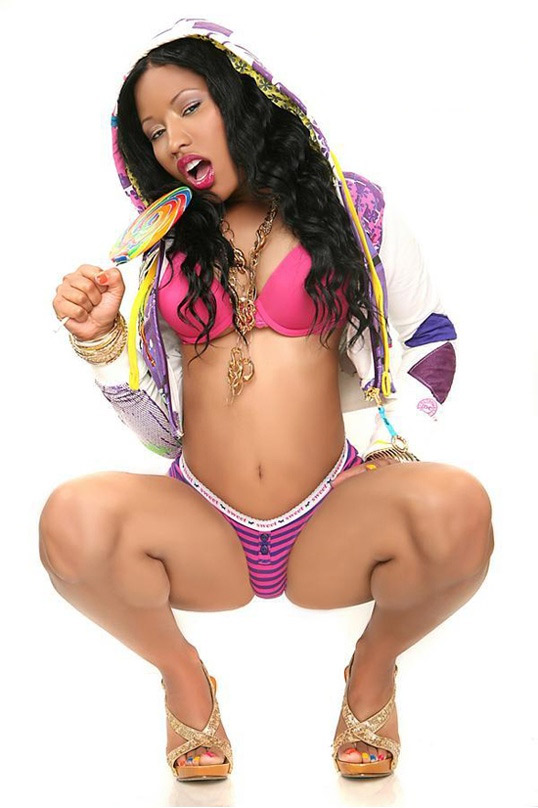 Tell me how you first came to love music?
I've always loved music. My mother sang all the time when I was little. I loved singing as well. Eventually, the bad girl in me began to surface, I guess, and then rapping became my thang.
What artists did you favor growing up?
LL Cool J, Salt-n-Pepa, DMX, Jay-Z, (Lil') Kim, Fox (Brown).
When did you actually decide to make rap your career choice?
When people started telling me I was good. Prior to that, I was rapping to be funny — Free-styling and making beats on the lunchroom table kinda thing. Eventually, I started believing my own hype and being a business woman, I thought why not take it all the way and put some money in my pocket from it?
How did you come up with Nicki Minaj?
My real name is Maraj. Fendi flipped it when he met me because I had such a nasty flow! I eat bitches!
Now there is another female rapper on the rise with a very similar name — Dr. Dre's daughter, Manaj.
Shorty don't pose a threat to me. She should be worried about me! I'm the big bad wolf!
Fendi signed you to his Dirty Money Records imprint, correct?
I was coaxed into starting a My Space page and (began) sending out friend requests (to) some insiders in the music biz. He happened to be a person I sent a request to. He hit me up and began relentlessly pursuing me. He asked for a trial period to prove himself, (and) the rest is history.
Is there a definition for what you do on the microphone?
(It's) Swag, Skill, and Sex — Put them all together, you've got my style.
Where do your lyrics derive from?
I usually write when I'm in a good mood — It just flows. I think I draw the inspiration from the person inside of me. She's a superstar! People just don't know it yet.
Who are you working with on your still-in-the-making forthcoming debut album?
I'm not working with anyone in particular at this point. I'd love to work with Polow da Don, Swizz Beatz, Missy (Elliott), Timbaland, just to name a few.
While your getting everything in order for your own project, how are you gonna keep your name out there in the streets? I have to point out that my new mix-tape SUCKA FREE is in stores now. If you purchase it off my page, it comes autographed. You can also purchase the jerk off material poster, which also comes autographed if you buy it off the page. SUCKA FREE is going to exceed everyone's expectations of me. Lil' Wayne is all over it. We make a great team, if I do say so myself.
What plans do you have for sticking around in music?
I think the key to my success so far has been taking risks. I did over Biggie's songs for God sakes! That takes guts, you know? My sense of humor will keep sustaining me. I can find humor in just about anything, but I'm still a boss bitch!
Acting is on your radar as well?
Sure (is). I studied acting for four years. You'll see me on the big screen very, very soon!
How do you feel about Hip-Hop music in general, and, in particular, women in rap?
Yes, I am (happy with it, but) it needs me! I love where it's at.
I understand that this definitely isn't an overnight sensation thing with you?
I want (people) to know that I've overcome a lot to be where I am, and I know I still have a long way to go. I grew up in an extremely dysfunctional home, and made it out the wreckage. What you see is a success story — Nothing short of a miracle.
Do you have any favorite hobbies?
Having great sex!
What has been the best thing that has happened to you so far?
This pic with me sucking on this lollipop, (and) showing how cute my coochie is.
Predicting, what will your future bring?
(Being) rich!
And what's up next for Nicki Minaj?
SUCKA FREE the mix-tape, lots of press and lots of features — Shout out to Lil' Wayne and Young Money!
Are there any plans to tour yet?
I'm on the road now, looking for a few bad bitches! Step ya pussy up!
Do you have any final thoughts?
Thank you for the interview. Shout out to all my supporters! Shout out to Dirty Money! I'm-ma bring home that gold medal, Y'all! Belee dat!