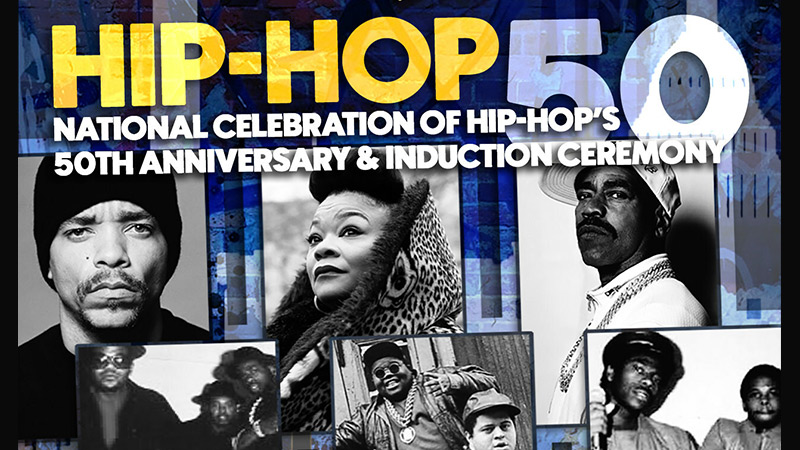 National Hip-Hop Museum to Induct Ice-T, Run DMC, Kurtis Blow, The Fat Boys, Roxanne Shante and The B-Boys into its Hall of Fame.
As part of its 50th anniversary celebration of hip-hop, The National Hip-Hop Museum (NHHM) announces a major collaboration with the National Celebration of Hip-Hop, taking place Saturday, Oct. 28, at Nationals Park in the national's capital.
Live at the celebration, NHHM will induct Ice-T, Run DMC, Kurtis Blow, The Fat Boys, Roxanne Shante and The B-Boys into its Hall of Fame. NHHM Historian Jay Quan (noted hip-hop historian, lecturer, narrator and writer) will bestow these legends with a custom trophy, custom NHHM jacket, commemorative cassette necklace, fat lace hat and more cool swag at approximately 6 p.m. Adding to the excitement, NHHM will present a custom "Hip-Hop 50" cake created live at the venue, as well as live hip-hop painting by its Resident Artist Kevin "Scene" Lewis.
"I can't think of a better place to hold our largest induction ceremony to date," said NHHM Founder and Collector Jeremy Beaver. "This is the culmination of five years at the museum of intense work to preserve and establish hip-hop as America's most important cultural export."
Doors open to the event at 2 p.m. and upon entering the stadium, visitors will be greeted with NHHM's newest exhibit: DJ Kool Herc's "Birth of Hip-Hop" Sound System and Turntables, which were used to invent Hip-Hop. Just in time for holiday gift season, attendees also can explore a pop-up shop and experience with one-of-a-kind memorabilia for sale from NHHM's retail arm, the The Hip-Hop Shop.
Among the star-studded performers at the Celebration's concert from 4 to 11 p.m. will be multi-platinum recording artist and NHHM Executive Director Master Gee performing with The Sugarhill Gang – the legendary hip-hop group he founded. NHHM will cap off the celebration with a special VIP party featuring all the inductees, plus 2019 NHMM Inductee DJ Kool and NHHM Chairman of The Board Grandmaster Caz spinning classic hip-hop. The party takes place from 11 p.m. to 2 a.m.