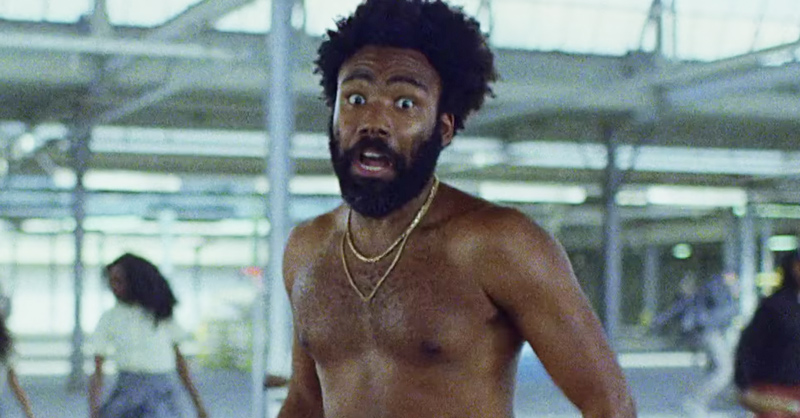 Childish Gambino's new single "This Is America" debuts at No. 1 on the Billboard Hot 100 chart, launching as the most-streamed and top-selling song of the week, as it also arrives atop the Streaming Songs and Digital Song Sales charts.
The track is the first Hot 100 leader for Donald Glover's musical alter ego, who took the stage to unveil the song as the musical guest on the May 5 episode of NBC's Saturday Night Live (as Glover hosted); the song and its video were released simultaneously around midnight ET Sunday, May 6.
"America" dethrones Drake's "Nice for What," which ruled the Hot 100 for its first four weeks on the chart, dating to its No. 1 debut. Drake's reign halts at 15 weeks overall, as, prior to "What," he led for 11 weeks with "God's Plan," which likewise launched at No. 1.
No. 1 bow in streaming & sales: "America" opens atop Streaming Songs with 65.3 million U.S. streams in the week ending May 10, according to Nielsen Music (covering its first five days of availability). Notably, with the song's official video garnering much attention, video accounts for an extremely robust 68 percent of the song's streaming total.
"America" also starts at No. 1 on Digital Song Sales with 78,000 downloads sold in the same tracking period, while drawing 9.4 million in all-genre radio airplay audience in the week ending May 13 (as it enters the Rap Airplay chart at No. 20 and R&B/Hip-Hop Airplay at No. 30).
Childish Gambino's first No. 1: "America" is Childish Gambino's first Hot 100 No. 1, or even top 10. He hit a previous No. 12 Hot 100 high last August with his fourth and most recent entry on the chart, "Redbone." His three prior charted titles, in 2013-16, peaked between Nos. 64 and 86.
He likewise earns his first No. 1s on Streaming Songs and Digital Song Sales, passing his prior respective highs of Nos. 10 and 14 with "Redbone."
"America" concurrently begins atop Billboard's Hot R&B/Hip-Hop Songs and Hot Rap Songs charts, also marking Childish Gambino's first No. 1 on each chart (which, like the Hot 100, mixes streaming, airplay and sales data).
31st No. 1 debut: "America" arrives as the 31st No. 1-debuting hit in the Hot 100's history. "America" and Drake's "Nice" (which entered atop the April 21-dated chart) and "Plan" (Feb. 3) further make for the first trio of back-to-back-to-back No. 1 debuts since 1995, when Mariah Carey's "Fantasy" (that Sept. 30), Whitney Houston's "Exhale (Shoop Shoop)" (Nov. 25) and Carey and Boyz II Men's "One Sweet Day" (Dec. 2) all opened atop the chart in succession.
Back then, a strong first week in physical sales (via cassette and CD, primarily) could help a song begin atop the Hot 100; now, a lofty first frame of streaming can similarly spark a No. 1 Hot 100 entrance. "Fantasy," "Exhale" and "Sweet" launched with 229,000, 125,000 and 205,000 physical singles sold, respectively; Drake's "Plan" and "Nice" entered with 82.4 million and 60.4 million U.S. streams, respectively. Source: Billboard